FOR IMMEDIATE RELEASE:
Friday, March 8, 2013
Peace Corps Volunteers Worldwide Commemorate International Women's Day 2013
WASHINGTON, D.C., March 8, 2013 — In honor of International Women's Day, Peace Corps recognizes volunteers worldwide who are working toward gender equality. Volunteers regularly engage in activities to identify barriers to gender equality and empower women, men and youth to think beyond traditional gender roles and encourage self-confidence.
Volunteers also organize Camp GLOW (Girls Leading Our World) or similar camps that help promote gender equality and empower young women by creating a safe and supportive environment for cultural exchange, individuality, creativity, leadership development and fun. Since 1995, volunteers in 60 countries have established GLOW camps to promote the empowerment of women.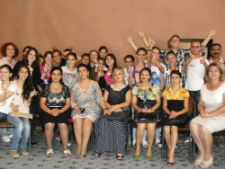 Azerbaijan

Peace Corps volunteers Rick Wiersma of Rockford, Mich., and Roxann Brown of Wauwatosa, Wis., are working with members of their community to promote gender equality. Recently Wiersma and Brown held a group discussion on gender and development with more than 25 Azerbaijani students and community members in southern Azerbaijan. They reviewed the role of gender within families, women's rights and gender equality.

"We want to get the young members of rural Azerbaijan to start thinking outside of their daily scope of how men and women are seen and valued in Azerbaijan, and move into what is possible for the future of their country," said Wiersma.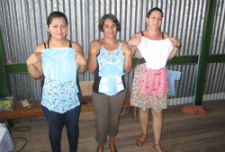 Costa Rica

Peace Corps volunteer Dorian Diaz del Castillo of San Diego, Calif., is working with eight women from his small Costa Rican community to develop business skills and generate income from the sale of hand-sewn products. He has already helped the women raise money for necessary equipment and business licensing fees.

Diaz del Castillo views the new business as a step toward economic development for women in his small rural community. "Helping the group expand will not only help these women achieve their goals but will also prove to a small rural community that hard work does pay off."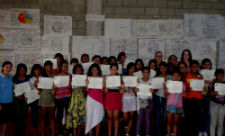 Colombia

Peace Corps volunteers Emily Fiocco of Belton, Texas, Ashley Gavin of Medway, Mass., and Kendra Hasenick of Santa Rosa, Calif., recently held a leadership camp for 25 seventh grade girls in Colombia. The four-day camp, called "Chicas Líderes: Las Mujeres Poderosas de Barranquilla"("Girl Leaders: The strong women of Barranquilla"), included activities and discussions on topics such as self-image, healthy relationships and accomplishing personal goals. On the final day of camp, the participants shared what they learned in front of their families and Peace Corps staff during a ceremony.

"I think the girls see themselves differently now," said Gavin. "I think it was the first time adults had asked them what they think about themselves, what they believe in, and what they want to be in the future."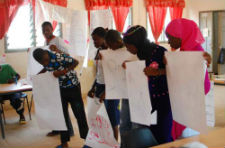 The Gambia
Peace Corps volunteers in The Gambia recently held a GLOW camp for local girls and boys to teach leadership skills and encourage participants to work together in their communities. Topics discussed throughout the camp included healthy lifestyle choices, leadership skills, gender equality and community engagement. At the end of the week-long camp, the participants worked with camp leaders and Peace Corps volunteers to develop action plans to introduce to their individual communities.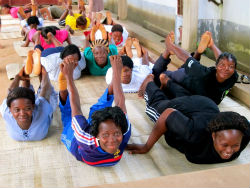 Togo

Peace Corps volunteers Katy Todd of Forestville, Calif., and Melissa Bernard of Freeport, Maine, are working with local Togolese community members to promote women's empowerment by organizing the third annual national women's wellness and empowerment conference. Throughout the five-day conference, 30 women will participate in seminars and activities to enhance their personal development and entrepreneurial skills. Seminar topics will include family planning, maternal health, nutrition, food security, social entrepreneurship and financial literacy.

"The conference helps women realize their potential to become leaders and role models, and to have a positive impact on those around them," said Bernard. "Participants leave equipped not only with valuable information, but with confidence in themselves and a belief that they can make a difference."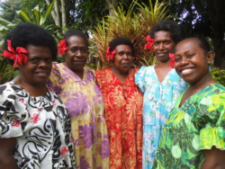 Vanuatu
Peace Corps volunteer Willow Denker of Ashland, Ore., is helping seven women from across Vanuatu learn computer skills. With help from the Peace Corps Partnership Program (PCPP), the group recently raised enough money to attend a 20-hour typing class in preparation for a teaching seminar they plan to hold for interested community members. Local organizations and Peace Corps volunteers will help the women finance the seminar and ensure they have all the necessary equipment.

Denker says her main motivation for helping the women learn to type and use computers comes from the encouragement and inspiration they give her. "I continue to be inspired by how hard they work and how dedicated they are to the livelihood and well-being of their families and communities."
About the Peace Corps: Since President John F. Kennedy established the Peace Corps by executive order on March 1, 1961, more than 210,000 Americans have served in 139 host countries. Today, 8,073 volunteers are working with local communities in 76 host countries in agriculture, community economic development, education, environment, health and youth in development. Peace Corps volunteers must be U.S. citizens and at least 18 years of age. Peace Corps service is a 27-month commitment and the agency's mission is to promote world peace and friendship and a better understanding between Americans and people of other countries. Visit www.peacecorps.gov for more information.
# # #
---