Peace Corps Volunteers Worldwide Celebrate Earth Day
April 22, 2013
WASHINGTON, D.C., April 22, 2013 – Peace Corps volunteers worldwide are making a difference by educating community members on the importance of environmental protection and engaging in projects that support local ecosystems. Currently, 12 percent of Peace Corps volunteers work on primary projects that support the environment, including activities in forestry, environmental education and protected area management. In addition, many Peace Corps volunteers participate in environment-related secondary projects and help engage local communities in environmental protection activities and the importance of natural resource conservation.
Environmental protection initiatives are also being undertaken at Peace Corps headquarters in Washington, D.C., through the Strategic Sustainability Performance Plan, which aims to reduce the agency's global environmental footprint. Peace Corps' sustainability initiatives align with the directives of the President's Executive Order on Federal Leadership in Environmental, Energy and Economic Performance and provides an overview of how the agency saves taxpayer dollars, reduces greenhouse emissions, cuts waste and saves energy.
Examples of Peace Corps environmental projects worldwide include:
Albania
Peace Corps volunteers Sarah Collier and Karl Enchelmayer received a USAID – Peace Corps Small Projects Assistance (SPA) grant to revitalize the grounds of a local school. By collaborating with school staff and students, Collier and Enchelmayer were able to add nearly 100 square meters of improved green space to the school's grounds. Several varieties of trees and vegetation were planted, including an olive tree planted by all of the project partners during a special ceremony. Concurrent with the green space initiative, new benches and trash bins were donated by local businesses and a U.S.-based NGO donated science books to the school's library.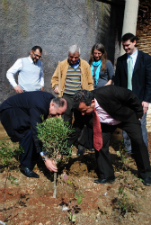 The green space will provide ongoing hands-on learning experiences and will raise environmental awareness for the school and community. Weekly biology classes will be held outdoors and a student group called The Green Team is leading efforts to maintain the plants and trees.
"Through this process, the students have gained a wider, more global awareness of the environment," said Collier. "They are learning that their actions here in Albania can have an impact on the rest of the world. The project has helped increase environmental appreciation because the students have taken part in the whole process of preparing the landscape and planting flowers. This hands-on experience has given them greater understanding of the environment."
Morocco
Peace Corps volunteers Donna Kamarei and Alexander VandenBroek recently taught environmental education lessons to more than 80 students in two Moroccan communities as part of a United Nations Development Programme (UNDP) community-based adaptation program to combat climate change. The lessons included discussions on climate change as well as games and craft projects using recycled materials.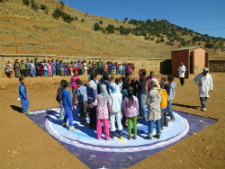 "The purpose of the project was to educate youth on climate change, adaptation, mitigation, and to have the students draw correlations between global climate change and local changes observed. In addition, we introduced alternative recycling options and helped the students draw a correlation to the mission of a local community-based adaption project. Due to the interactive nature of the lesson plan, the students began to engage more and talk about aspects of climate change that they had noticed and heard their parents or other village members talking about," said VandenBroek.
Costa Rica
Peace Corps volunteers Stephen and Melinda Lanning recently organized a recycling initiative in their Costa Rican community. The Lannings went door-to-door to 200 households to educate family members on the importance of recycling and how to properly separate their residues into organic waste, recyclable material, and garbage. After the training initiative, nearly one-third of the households continued to regularly participate in the recycling program.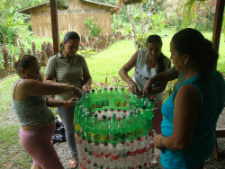 The Lannings found that the other two-thirds of households were unable to continue the recycling initiatives because they did not have the receptacles to separate and store their recyclables. The Lannings decided to raise money for recycling bins through the Peace Corps Partnership Program (PCPP), a program that supports Peace Corps volunteer community projects worldwide.
Once the money was raised, the Lannings worked with community members to make bins out of simple materials, including metal wire, plastic bottles and rope. More than 20 bins have been created so far, and community members and other Peace Corps volunteers have been trained to create additional bins to ensure project sustainability. Green spaces have been cleared in the local park, soccer field and eco-lodge to house recycling bins.
About the Peace Corps: Since President John F. Kennedy established the Peace Corps by executive order on March 1, 1961, more than 210,000 Americans have served in 139 host countries. Today, 8,073 volunteers are working with local communities in 76 host countries in agriculture, community economic development, education, environment, health and youth in development. Peace Corps volunteers must be U.S. citizens and at least 18 years of age. Peace Corps service is a 27-month commitment and the agency's mission is to promote world peace and friendship and a better understanding between Americans and people of other countries. Visit www.peacecorps.gov for more information.