FOR IMMEDIATE RELEASE:
Saturday, June 9, 2012
Peace Corps Volunteers Work to Protect Oceans, Reefs and Environment
Volunteer in Fiji helps improve mangroves, rehabilitate coral reefs and protect marine life
WASHINGTON, D.C., June 9, 2012 – Peace Corps volunteers worldwide regularly work to protect the environment and the ocean through community-wide education campaigns and clean-up and waste-management efforts. This week marks both World Environment and World Oceans Day, and today, 12 percent of volunteers work in the environment sector.



In Fiji, Peace Corps volunteer Jennifer Diffley of Henderson, Nev., has been working with her local village for over two years to protect the ocean and ecosystem, from ridge to reef. She has developed an environmental education program with workshops for adults and children teaching best practices in waste management, safe fishing practices, pesticide and fertilizer use, and coral reef protection.

"To help the foreshore area we've planted trees along the shoreline and mangroves in estuary areas. Villagers are learning to keep their rubbish away from waterways and to manage waste by separating and composting," said Diffley, who has been working as an environmental education volunteer in Fiji since May 2010. "People in my village also maintain a marine protected area where we protect the ecosystem and plant coral to rehabilitate the reefs."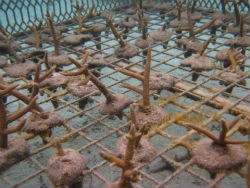 Peace Corps environment volunteers help communities make informed decisions about how to best protect the environment through recycling projects, youth clubs, park management, and forest, soil, and marine conservation. From turning discarded plastic bags and bottles into clothing and schools, to teaching families about solar cooking, volunteers address some of the most pressing environmental challenges of our time.

Peace Corps is actively recruiting volunteers to work in the environment sector. Peace Corps' nine regional recruiting offices across the United States work to recruit and provide information and guidance to prospective Peace Corps volunteers. Potential applicants can connect with a local recruiter and locate their local regional recruiting office by visiting the Peace Corps website here.

About Peace Corps/Fiji: More than 2,290 Peace Corps volunteers have served in Fiji since the program was established in 1968. Currently, 55 volunteers serve in Fiji. Volunteers work in the areas of health, business and environment. Volunteers are trained and work in the languages Fijian and Hindi.

About the Peace Corps: Since President John F. Kennedy established the Peace Corps by executive order on March 1, 1961, more than 200,000 Americans have served in 139 host countries. Today, 9,095 volunteers are working with local communities in 75 host countries. Peace Corps volunteers must be U.S. citizens and at least 18 years of age. Peace Corps service is a 27-month commitment and the agency's mission is to promote world peace and friendship and a better understanding between Americans and people of other countries. Visit www.peacecorps.gov for more information.
# # #
---