FOR IMMEDIATE RELEASE:
Tuesday, January 28, 2014
Peace Corps Volunteers Use Music to Educate and Empower Youth through Cultural Exchange
WASHINGTON, D.C., Jan. 28, 2014 – Peace Corps volunteers around the world are making a difference through music. By sharing their love of music with young people in their communities, volunteers are bridging language and cultural differences to educate youth. Music has the power to enhance learning and global understanding by bringing people of all backgrounds together.
Below find the stories of three volunteers who are using music to facilitate cultural exchange and empower young people in their country of service.
Albania
In Albania, Peace Corps volunteer Brendan Bates of Santa Ynez, Calif., is using his guitar to enhance his English lessons and has paired up with a local pastor, who also plays guitar, to create a music group for young people in his community that meets twice a week.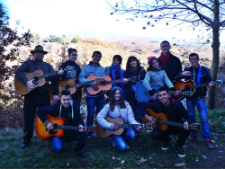 "Albanians love American music, and the chance to learn how to play their favorite tunes has really inspired my students," Bates said. "I've always loved playing guitar, but I never thought I'd get the opportunity to share it and teach others how to play."
A local church bought new guitar strings and paid for photocopies of music for the students, who recently played at its Christmas celebration. Thanks to community contributions, the group now has seven guitars.
"As our class became more organized, more guitars came out of hiding," Bates said. "We have advanced from ten students who didn't know a thing about guitar to a group of guitarists who can read tablature and play chords."
Bates has also been learning Albanian folk songs to further connect with his students.
"I get the chance to learn a variety of Albanian songs and lyrics ranging from older traditional songs to modern Albanian pop music – another rewarding aspect of Peace Corps' cultural exchange."
Malawi
In Malawi, Peace Corps volunteers are working to fight HIV/AIDS through music with the Malawi Music Project, a collaborative effort between Peace Corps Malawi and an international non-governmental organization (NGO) focused on celebrating music and cultural arts.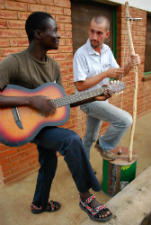 In December, Peace Corps volunteers and NGO staff led a workshop for 30 young musicians ages 10-21 from across the country that included classes and trainings on HIV/AIDS education and awareness, music theory, instrument instruction, band management, creativity, songwriting and life skills.
"Without music, I don't feel that I would have been nearly as effective in my community," said Peace Corps Response volunteer Andrew Goforth of Whitestone, S.C. "The beauty of music is that it puts everyone on equal ground. It doesn't matter if you are American or Malawian, male or female, old or young, or if you speak English, Chichewa or Chinese, when you share music with people, they don't have to understand the words because they will be moved by the music."
The week-long workshop concluded with a battle of the bands in Lilongwe with special guests U.S. Ambassador to Malawi Jeanine Jackson and Malawian musician Peter Mawanga. In Jackson's remarks, she encouraged the young musicians to focus on nurturing their talent in place of harmful behavior like drug and alcohol abuse.
Paraguay
Peace Corps volunteer Jordan Vargas of York, Pa., is recycling discarded items in his community to reduce waste and bring musical instruments to local youth.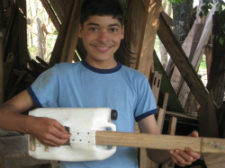 "People have limited resources and opportunity in general, let alone to learn and play music," Vargas said. "Music is a very big part of my life – a part that I want to share with my community – but limited money and resources make it difficult."
Inspired by an orchestra in Asunción that plays instruments made of trash, Vargas and kids from his community began experimenting how they could build instruments from everyday items. They made one of their first instruments, a guitar, from an empty motor oil bottle and scraps of wood. The group is now working to construct a drum from old paint buckets.
"It's a work in progress, but the experimentation is a great experience for me and the kids, utilizing creativity and our imaginations," Vargas said.
About the Peace Corps: As the preeminent international service organization of the United States, the Peace Corps sends Americans abroad to tackle the most pressing needs of people around the world. Peace Corps volunteers work at the grassroots level with local governments, schools, communities, small businesses and entrepreneurs to develop sustainable solutions that address challenges in education, health, economic development, agriculture, environment and youth development. When they return home, volunteers bring their knowledge and experiences – and a global outlook – back to the United States that enriches the lives of those around them. President John F. Kennedy established the Peace Corps in 1961 to foster a better understanding among Americans and people of other countries. Since then, more than 215,000 Americans of all ages have served in 139 countries worldwide. Visit www.peacecorps.gov to learn more.
# # #
---