FOR IMMEDIATE RELEASE:
Friday, September 5, 2014
Peace Corps Volunteers to Return to Comoros
More than 70 Peace Corps volunteers served in the island nation from 1988-1995
WASHINGTON, D.C., September 5, 2014 – The Peace Corps today signed an agreement to re-establish a program in the Union of the Comoros after a nineteen-year absence from the island nation off the eastern coast of Africa. The agreement was signed by the Comoros Foreign Minister Said Hassane El-Anrif and Peace Corps' Africa Regional Director Dick Day during an official ceremony at the Ministry of Foreign Affairs in Moroni, the capital of Comoros. This agreement marks Peace Corps' first re-entry into a country since the agency announced the return of volunteers to Nepal in 2012.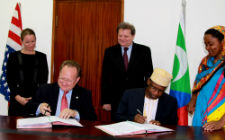 "The return of Peace Corps to Comoros will allow our volunteers to continue making a difference on important education and environmental initiatives," Peace Corps Director Carrie Hessler-Radelet said. "With support from the U.S. Department of State, we look forward to re-establishing a collaborative and enduring program working side-by-side with the people of Comoros."
The first group of ten Peace Corps Response volunteers are scheduled to arrive in Comoros in early 2015 to teach English and support environmental protection initiatives. They will be followed by 20 Peace Corps volunteers who will undergo three months of comprehensive cross-cultural, language and technical training before traveling to their volunteer sites. Peace Corps volunteers are also encouraged to participate in community and school-based projects, which offer opportunities to share experiences, transfer skills and knowledge, and foster greater understanding between volunteers and their host communities. The success of Peace Corps is built on the people-to-people exchange of ideas at the grassroots level.
"Peace Corps' early program in Comoros has had an enduring impact," Africa Regional Director Day said. "There is great excitement, amongst us all, about this return. It is a great pleasure and privilege to participate in this historic ceremony today."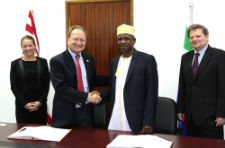 The President of Comoros Dr. Ikililou Dhoinine officially requested the return of Peace Corps volunteers in September 2013, and the two governments worked closely together during the past year to re-establish the program. From 1988-1995, more than 70 Americans served as Peace Corps volunteers in Comoros on projects supporting education and the environment until the program was closed due to political instability.
About the Peace Corps: As the preeminent international service organization of the United States, the Peace Corps sends Americans abroad to tackle the most pressing needs of people around the world. Peace Corps volunteers work at the grassroots level with local governments, schools, communities, small businesses and entrepreneurs to develop sustainable solutions that address challenges in education, health, economic development, agriculture, environment and youth development. When they return home, volunteers bring their knowledge and experiences—and a global outlook—back to the United States that enriches the lives of those around them. President John F. Kennedy established the Peace Corps in 1961 to foster a better understanding among Americans and people of other countries. Since then, more than 215,000 Americans of all ages have served in 139 countries worldwide. Visit www.peacecorps.gov to learn more.
# # #
---