FOR IMMEDIATE RELEASE:
Friday, August 26, 2011
Peace Corps Volunteers Teach Thousands of Peruvians about Health and Environment through Radio Shows
WASHINGTON, D.C., Aug. 26, 2011 More than a dozen Peace Corps volunteers across Peru host weekly radio programs to provide information on health, current events and the environment to remote communities around the country. Volunteers often invite local community members and public officials to speak on topics ranging from HIV/AIDS prevention and care to healthy lifestyle tips and community service opportunities.
Peace Corps volunteers Jessica Smith of Iowa City, Iowa, and Nikki Eller of Seattle, Wash., host a weekly 45-minute radio show in western Peru which reaches more than 5,000 people. Since starting the show on
Radio Hispana
in February, Smith and Eller have hosted 17 shows covering heart health, HIV/AIDS awareness, emotional health, potable water, and the arts.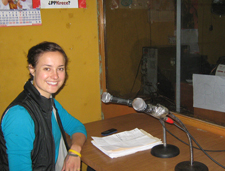 Our radio show is great. I get to talk about things that are important for people in my community to know, said Smith, a water and sanitation volunteer who arrived in Peru in September 2009. A listener told me she went to the hospital after learning more information about proper eye care from our show. It made me happy to know she was able to make an informed decision about her health because of our radio program.
Other volunteers in Peru who work in the areas of youth development, health and environmental awareness regularly speak on different radio programs throughout the country on health, current events, education and recycling.
About Peace Corps/Peru:
Nearly 3,000 Peace Corps volunteers have served in Peru since the program was established in 1962. The post closed in 1975, but Peace Corps operations resumed in 2002. Volunteers work in the areas of youth and community development, environmental and agricultural conservation, health, water sanitation and hygiene promotion, and business development. Currently, 270 volunteers serve in Peru. Volunteers are trained and work in Spanish and Quechua.
About the Peace Corps:
President John F. Kennedy established the Peace Corps on March 1, 1961, by executive order. Throughout 2011, Peace Corps is commemorating 50 years of promoting peace and friendship around the world. Historically, more than 200,000 Americans have served with the Peace Corps to promote a better understanding between Americans and the people of 139 host countries. Today, 8,655 volunteers are working with local communities in 76 host countries. Peace Corps volunteers must be U.S. citizens and at least 18 years of age. Peace Corps service is a 27-month commitment. Visit www.peacecorps.gov for more information.
# # #
---