FOR IMMEDIATE RELEASE:
Friday, May 8, 2015
Peace Corps Volunteers Support Mothers Across 60 Countries
WASHINGTON, D.C., May 8, 2015 – This Mother's Day, Peace Corps celebrates volunteers worldwide who are making a difference for mothers and their families. Across more than 60 countries, Peace Corps volunteers work to improve maternal health, educate new and expecting mothers, and advance healthy relationships to build stronger communities. Today, 24 percent of all Peace Corps volunteers work in health.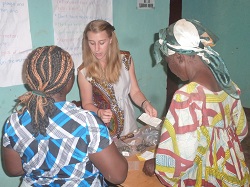 Below read how Peace Corps volunteers in Cameroon, the Dominican Republic and Cambodia are promoting maternal health in their communities.
Cameroon
Peace Corps volunteer Allely Albert of Mill Valley, California, is teaching local mothers in Cameroon about healthy lifestyle choices and promoting positive gender relations between men and women in her community. As a health volunteer, Albert leads educational sessions at local clinics, schools and community centers on topics ranging from maternal and prenatal health to positive relationships and gender attitudes. She is also leading a nutrition campaign to teach new mothers about maintaining a balanced diet and preparing healthy meals from local foods.
"My community members – especially the mothers – are motivated and excited about these projects," said Albert, a graduate of Willamette University who has been living in Cameroon since September 2013. "I'm planning cooking demonstrations in the upcoming months, so hopefully seeing and trying new, balanced dishes will encourage healthy eating."
Dominican Republic
Peace Corps volunteer Joaquin Garcia of Roma, Texas, is working with members of his community in the Dominican Republic to host lectures on sex education and maternal care for local women. The lectures empower women not only to learn about topics like infant care, breastfeeding, disease and nutrition, but also to share their knowledge with mothers and families throughout the Dominican Republic.
"All of this is part of an initiative to try to decrease the maternal mortality rate in our rural communities where medical facilities are far or just do not exist," said Perez, a graduate of Texas A&M International University who has been living in the Dominican Republic since August 2013. "So far, no women have passed away during birth and all babies born have been healthy and born without complications."
Cambodia
Peace Corps volunteer Joel Ford of Fallston, Maryland, is teaching youth in his community how to stay healthy throughout their lives by integrating maternal healthcare into education materials. Ford works with local teachers to instruct students on a broad range of health topics, including prenatal care, antenatal care, noncommunicable diseases, nutrition, smoking, alcohol abuse, exercise and sanitation. During his service, Ford has also served as a health educator in clinic waiting rooms where he discusses a number of health topics with patients. He takes pride in teaching his community, especially adolescents, about maintaining healthy lifestyles.
"I'm currently working with my community to build a 200 square meter garden at the middle school and smaller gardens at homes around the village," said Ford, a graduate of Ursinus College who has been living in Cambodia since July 2013. "The gardens, in conjunction with nutrition education, promote better daily diets."
About the Peace Corps: The Peace Corps sends the best and brightest Americans abroad on behalf of the United States to tackle the most pressing needs of people around the world. Volunteers work at the grassroots level to develop sustainable solutions that address challenges in education, health, economic development, agriculture, environment and youth development. Through their service, volunteers gain a unique cultural understanding and a life-long commitment to service that positions them to succeed in today's global economy. Since President John F. Kennedy established the Peace Corps in 1961, nearly 220,000 Americans of all ages have served in 140 countries worldwide. For more information, visitwww.peacecorps.gov and follow us on Facebook and Twitter.
# # #
---