FOR IMMEDIATE RELEASE:
Friday, February 17, 2012
Peace Corps Volunteers, Staff from 11 African Nations Build Malaria Prevention Team
WASHINGTON, D.C., February 17, 2012 More than 20 Peace Corps volunteers and staff members from 11 African countries participated in the third Stomping Out Malaria in Africa Boot Camp, held Feb. 2 to Feb. 11. The boot camp convened in Thies, Senegal and incorporated innovative technology to highlight best practices in malaria prevention, treatment, and intervention campaigns.
Theres a lot of spirit and enthusiasm in this group. We are learning from volunteers who have already gone through this training what theyve done right and wrong and that makes it a much more effective training for us, said Peace Corps volunteer Daniel Allen who has been serving in Ethiopia since October 2009. No one can deny that malaria is one of the biggest problems that many Peace Corps countries are facing, and through Stomping Out Malaria in Africa Peace Corps volunteers can have a big impact on their communities. This initiative gives Peace Corps volunteers an opportunity to be part of a very focused and determined group that has a very strong goal in mind: to end malaria.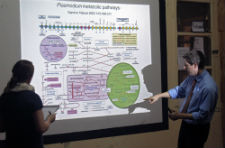 Peace Corps volunteers from Benin, Burkina Faso, Ethiopia, The Gambia, Madagascar, Mali, Mozambique, Senegal, Togo, Uganda and Zambia participated in the boot camp, and will soon return to their countries of service to lead malaria prevention efforts. The trainings are designed to develop a team of Peace Corps volunteers to serve as liaisons with partners and local organizations to share best practices and build a network of malaria prevention professionals.
Boot Camp training sessions were held with local community members and via Skype with experts from the Centers for Disease Control, USAID, PATH, the University of South Florida, Family Health International, and Johns Hopkins University Center for Communications Programs. Participants discussed malaria science, behavior change communications, HIV/AIDS and malaria co-infection, bed-net distributions, and international malaria policy and control.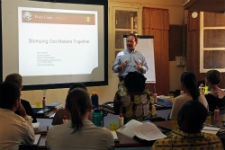 Malaria is an infectious disease transmitted to humans through an infected mosquito. The World Health Organization estimates that in 2008 there were 247 million cases of malaria and nearly one million deaths, mostly among children living in Africa. Peace Corps Volunteers worldwide work in disease prevention, teaching classes in HIV prevention, educating at-risk populations, and developing community support for children orphaned by AIDS.
About Peace Corps/Senegal:
More than 3,190 Peace Corps volunteers have served in Senegal since the program was established in 1963. Currently, 254 volunteers serve in Senegal. Volunteers work in the areas of agriculture, forestry, environment, health and business.
About the Peace Corps:
Since President John F. Kennedy established the Peace Corps by executive order on March 1, 1961, more than 200,000 Americans have served in 139 host countries. Today, 9,095 volunteers are working with local communities in 75 host countries. Peace Corps volunteers must be U.S. citizens and at least 18 years of age. Peace Corps service is a 27-month commitment and the agencys mission is to promote world peace and friendship and a better understanding between Americans and people of other countries. Visit www.peacecorps.gov for more information.
# # #
---