FOR IMMEDIATE RELEASE:
Thursday, October 30, 2014
Peace Corps Volunteers Share Halloween Traditions with their Service Communities
WASHINGTON, D.C., Oct. 30, 2014 – Peace Corps volunteers worldwide share American culture with the communities they serve, and Halloween is no exception. Below read how volunteers teach their communities about Halloween traditions.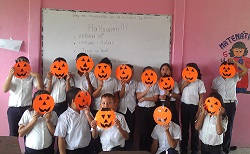 Costa Rica
During a four-week English camp, Peace Corps volunteers in Costa Rica taught local secondary school students Halloween vocabulary words and had students tell scary stories to hone their English language skills.
"It was the first time most of these children had heard of or celebrated Halloween," said Esteli Pacio of New York City, who served in Costa Rica from 2012-2014. "These activities got them excited about English and American culture."
Recently returned Peace Corps volunteer Rattana Phon of Ann Arbor, Michigan, carved jack-o'-lanterns with her elementary school students in Costa Rica and taught them about trick-or-treating.
"My students might have learned about Halloween from TV or their parents, but they never had an American share their experience and knowledge about Halloween with them," said Phon, a graduate of Beloit College who served in Costa Rica from 2012-2014. "These activities allowed my students to learn about American culture from someone who actually had experienced it."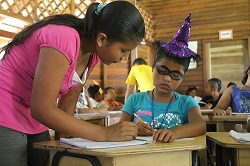 Mongolia
Peace Corps volunteer Veronica Moermond of Cincinnati, Ohio, shared scary stories with her English language club in Mongolia to teach students new vocabulary words and improve their English comprehension skills.
"My students were hanging on to my words, both with suspense and an attempt at close listening to understand a foreign language," said Moermond, a graduate of the University of Cincinnati who has been living in Mongolia since 2013. "At the story's climax, my students just about jumped out of their skin before collapsing into fits of nervous giggles for about five minutes—seriously one of the best moments I've had while here."
Morocco
Recently returned Peace Corps volunteer Samantha Ginsburg of Greenwood Village, Colorado, brought Moroccan youth to a Halloween carnival organized by her fellow Peace Corps volunteers and community members. The carnival was held at a youth club in southeastern Morocco and more than 120 children attended.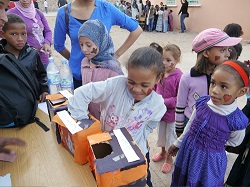 "The kids participated in classic Halloween activities like bobbing for apples, pumpkin carving and face-painting," said Ginsburg, a graduate of Muhlenberg University who served in Morocco from 2012-2014. "The event was a huge success!"
About the Peace Corps: As the preeminent international service organization of the United States, the Peace Corps sends Americans abroad to tackle the most pressing needs of people around the world. Peace Corps volunteers work at the grassroots level with local governments, schools, communities, small businesses and entrepreneurs to develop sustainable solutions that address challenges in education, health, economic development, agriculture, environment and youth development. When they return home, volunteers bring their knowledge and experiences – and a global outlook – back to the United States that enriches the lives of those around them. President John F. Kennedy established the Peace Corps in 1961 to foster a better understanding among Americans and people of other countries. Since then, more than 215,000 Americans of all ages have served in 139 countries worldwide. Visit www.peacecorps.gov to learn more.
# # #
---