FOR IMMEDIATE RELEASE:
Thursday, March 17, 2011
Peace Corps Volunteers Run 150 Miles from the Dead Sea to the Red Sea in Jordan
WASHINGTON, D.C., March 17, 2011 In commemoration of Peace Corps Month, ten Peace Corps/Jordan volunteers on March 3, 2011 ran in the 14th annual Dead2Red relay race. The 242 kilometer (150 mile) race starts at the Dead Sea and ends at the Red Sea in Jordan. The volunteers raised $1.00 for every kilometer for the Peace Corps Partnership Jordan fund, a community-based fund supporting Peace Corps projects. The team finished the race in 18 hours and 34 minutes and placed 18th out of nearly 40 teams.
The Peace Corps Jordan team was neck-and-neck with a team from the United Nations for the better half of the race, as well as teams from the U.S. Embassy, said Peace Corps/Jordan youth development volunteer Andrew Harris of Concord, Mass.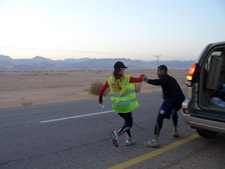 To support the volunteers, Peace Corps staff drove vehicles along the race route to provide a resting place for volunteers. It was a privilege to drive one of the support vehicles for this team of Peace Corps volunteers, who exemplify the qualities of service and resilience that typifies volunteers throughout the Kingdom of Jordan and the principles of Peace Corps throughout the world, said Alex Boston, Peace Corps country director in Jordan. Their determination, good humor and team work was inspiring.
The Dead2Red race is an annual event in Jordan that brings together teams from schools, local communities, corporations, Embassies and international organizations. The race begins at the lowest point on earth, goes through the southern half of the Kingdom of Jordan, and ends at the countrys southern most city of Aqaba.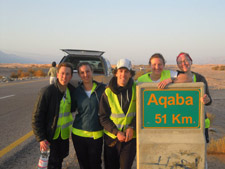 The Peace Corps/Jordan Dead2Red team included: Darius Bittle-Dockery of New Haven, Conn., Andrew Harris, Matthew Hilgart of Pewaukee, Wis., Lauren Moser of Croghan, N.Y., Torin Peterson of Madison, Conn., Katie Schneller Morsch of Canton, S.D., Kate Shaughnessy of Saint Louis Park, Minn., Naomi Simila-Dickenson of Salem, Ore., Marty Weiss of Highland, Ill., and Jana Whetzel Grindheim of Boise, Idaho.
About Peace Corps Partnership Jordan Fund:
The fund supports community-based Peace Corps volunteer projects throughout Jordan. In the past, the fund has supported water and sanitation projects, agricultural development, and youth programs. The fund has also supported Camp GLOW (Girls Leading Our World), which promotes gender equality and empowers young women by creating a safe and supportive environment for cultural exchange, individuality, creativity, leadership development, and fun.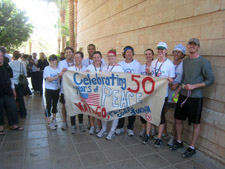 About Peace Corps/Jordan:
More than 460 Americans have served as Peace Corps volunteers in Jordan since the program was established in 1997. Volunteers in Jordan work in education, youth and community development. Currently, 38 volunteers are serving in Jordan. Volunteers are trained and work in Arabic.
About the Peace Corps:
President John F. Kennedy established the Peace Corps on March 1, 1961, by executive order. Throughout 2011, Peace Corps is commemorating 50 years of promoting peace and friendship around the world. Historically, more than 200,000 Americans have served with the Peace Corps to promote a better understanding between Americans and the people of 139 host countries. Today, 8,655 volunteers are working with local communities in 77 host countries. Peace Corps volunteers must be U.S. citizens and at least 18 years of age. Peace Corps service is a 27-month commitment. Visit www.peacecorps.gov for more information.
# # #
---