FOR IMMEDIATE RELEASE:
Friday, September 7, 2012
Peace Corps Volunteers Return to Nepal
Trainees depart to begin 27 months of service
WASHINGTON, D.C., September 7, 2012 – The first group of Peace Corps volunteers to re-enter Nepal after an eight-year absence departed for Kathmandu in the early hours of Friday morning. A ceremony honoring 20 new trainees and the program was held in Washington, D.C., on Thursday, September 6 and was attended by Peace Corps Director Aaron S. Williams, Nepalese Ambassador to the United States Shankar Sharma, USAID Assistant Administrator for Asia Nisha Biswal, Peace Corps/Nepal Country Director Andrea Wojnar-Diagne and Peace Corps staff.
"We are pleased that the government of Nepal has invited Peace Corps volunteers to return," said Director Williams. "Peace Corps has a long and rich history in Nepal and this is an opportunity to continue that fruitful relationship."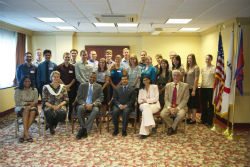 "On behalf of the government and people of Nepal, I would like to express our eagerness to welcome Peace Corps volunteers back into our country," said Ambassador Sharma. "Nepalese people have always admired and appreciated the contribution and friendliness of Peace Corps volunteers. We believe that Peace Corps volunteers will gain a lifetime positive experience in working with the villages of Nepal."
"People from host villages, along with those whose lives were touched by volunteers during the 42 years we were previously there, are very excited to welcome the newest group of Peace Corps volunteers to Nepal," said Country Director Wojnar-Diagne. "Much of the program work will be to promote food security at the grassroots level, and the communities that will share their knowledge and culture with our skilled volunteers eagerly await their arrival."
In January 2012, the Peace Corps announced that it would re-establish its program after suspending it in 2004. The new program is being opened with significant support from the U.S. Agency for International Development (USAID). This collaborative effort is being implemented under an Inter-Agency Agreement between Peace Corps, and USAID's Asia Bureau under Assistant Administrator Nisha Biswal.
For the next three months, the new trainees will undergo comprehensive cross-cultural, language and technical training through the Peace Corps. After they are sworn in as volunteers, they will be trained in agriculture and nutrition, and will work in the rural hill regions of western Nepal, conducting activities and projects in the Nepali language. Within their communities volunteers will build local capacity in Global Health Initiative and Feed the Future priority areas. Nearly 4,000 Peace Corps volunteers served in Nepal from 1962 until 2004.
About the Peace Corps: Since President John F. Kennedy established the Peace Corps by executive order on March 1, 1961, more than 210,000 Americans have served in 139 host countries. Today, 9,095 volunteers are working with local communities in 75 host countries. Peace Corps volunteers must be U.S. citizens and at least 18 years of age. Peace Corps service is a 27-month commitment and the agency's mission is to promote world peace and friendship and a better understanding between Americans and people of other countries. Visit www.peacecorps.gov for more information.
# # #
---