FOR IMMEDIATE RELEASE:
Thursday, July 19, 2012
Peace Corps Volunteers Renovate Center for Pregnant Women in Nicaragua
WASHINGTON, D.C., July 19, 2012 – Peace Corps volunteers Kelli Stam of Brevard, N.C., Elizabeth Malenk of Alameda, Calif., and Gregory Purifoy of Evans City, Pa., are working with their community to revitalize a temporary home for underprivileged pregnant women in Nicaragua. Last year, the temporary home, "Casa Materna," housed more than 350 women who were considered to have high-risk pregnancies or who did not have immediate access to a health facility to give birth.
"Because of inadequate resources, Casa Materna could only afford rice, beans, eggs, powdered milk, and oil, which is not nutritionally sufficient for expecting mothers," said Malenk, who has been serving as a maternal child health volunteer in Nicaragua since January 2011. "A diet rich in fruits and vegetables is crucial for fetal growth and development. One of our goals was to create a more active, outdoor-friendly, and healthier environment for the women by providing the opportunity to create a sustainable vegetable garden to supplement their diets."
Through this project, the Casa Materna now offers residents a safe, healthy environment to live during their pregnancy. The center also now offers yoga and different educational trainings in women's health.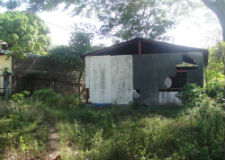 "Low-impact physical activity significantly benefits an expecting mother by helping her to bear the extra weight of pregnancy without strain and also helps for a smoother childbirth," said Purifoy, who has been an environmental education volunteer in Nicaragua since August 2011. "We also wanted to replace the stove because it was both unhealthy and inefficient. Peace Corps volunteers and community members constructed an economic wood-burning stove that directs smoke away from the user and requires minimal wood, making it more cost effective and environmentally friendly."
In addition to improving infrastructure, volunteer and community members are working with expecting mothers to educate them about HIV/AIDS, maternal and child health, and environmental health.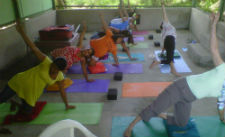 "The need for health education in Boaco is not limited to the women at the Casa Materna," said Stam, who has been living and working in Nicaragua since May 2011. "We held an event on May 30, which is Mother's Day in Nicaragua, to celebrate the project and involve the community in health education. It was a great way to show off all of the progress we've already made at the Casa Materna and also help community members appreciate the importance of health education."
The Boaco community contributed more than 50 percent of the money necessary for the initial materials renovations. The remainder of the money was acquired through a Volunteer Activities Support and Training (VAST) grant, a small project funded by the President's Emergency Plan for AIDS Relief. In order to ensure sustainability, community members and Casa Materna staff will be trained in how to maintain the vegetable garden and other facilities.
About Peace Corps/Nicaragua: More than 2,140 Peace Corps volunteers have served in Nicaragua since the program was established in 1968. Currently, 255 volunteers serve in Nicaragua. Volunteers work in the areas of business, environment, health and education. Volunteers are trained and work in Spanish.
About the Peace Corps: Since President John F. Kennedy established the Peace Corps by executive order on March 1, 1961, more than 200,000 Americans have served in 139 host countries. Today, 9,095 volunteers are working with local communities in 75 host countries. Peace Corps volunteers must be U.S. citizens and at least 18 years of age. Peace Corps service is a 27-month commitment and the agency's mission is to promote world peace and friendship and a better understanding between Americans and people of other countries. Visit www.peacecorps.gov for more information.
# # #
---