FOR IMMEDIATE RELEASE:
Friday, April 11, 2014
Peace Corps Volunteers Put World's Youth on a Brighter Path
WASHINGTON, D.C., April 11, 2014 – Peace Corps volunteers around the world are helping young people in their local communities develop career skills, build confidence, and become active citizens. To mark Global Youth Service Day, the Peace Corps highlights volunteer projects that expand opportunities for youth and put them on a path to success. Seven percent of Peace Corps volunteers currently work in Youth in Development and another 40 percent of volunteers engage young people as educators.
Peace Corps Acting Director Carrie Hessler-Radelet will join the National Youth Leadership Council for a Day of Service on the National Mall in Washington, D.C. on Saturday, April 12 in celebration of Global Youth Service Day. On Thursday, Hessler-Radelet spoke with students, educators and community leaders about the value of service and the inspiring work of Peace Corps volunteers at the National Service-Learning Conference. A media advisory on these events can be viewed here.
Observed April 11-13, Global Youth Service Day is the world's largest service event dedicated to recognizing the contributions that young people make to their communities. An anticipated 1,000 people will participate in the Day of Service on the National Mall, contributing an estimated 3,000 hours of service.
Below find three examples of youth-focused volunteer projects that are making a difference.
Morocco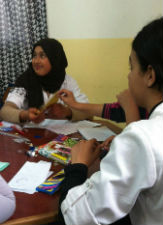 Peace Corps volunteers Martha Fedorowicz of East Lansing, Mich., and Meg Fowler of Memphis, Tenn., recently collaborated with a local community member and a nonprofit organization called INJAZ Al-Maghrib to lead a workshop for high school students in Morocco on developing business and entrepreneurial skills. After discussing business goals and aspirations, Fedorowicz and Fowler divided the youth participants into five groups, each tasked with designing a small business plan. Once the business plans were complete and each participant assumed a role within the company, the five businesses were each instructed to produce a greeting card utilizing the information and skills learned through the workshop. A panel then judged the products and business plans and selected a winning company based on price, creativity and quality of the card.
"By doing things that real businesses do, like designing advertisements, creating product ideas and doing market surveys, these programs teach youth the basics of what it takes to become an entrepreneur: leadership, self-assessment, communication, creativity, determination, teamwork and problem-solving," said Fedorowicz, a graduate of the University of Michigan who has been living in Morocco since 2012.
"I truly believe that this experience has been an excellent opportunity for our high school students to grow in their abilities to work in teams, demonstrate initiative and leadership, and apply their creativity in productive ways," said Fowler, a graduate of American University who has been living in Morocco since 2013. "My hope is that the workshop will inspire them to consider the benefits and possibilities of entrepreneurship as a viable option for their future careers."
Moldova
Peace Corps volunteers Laura Demmel of Grant, Neb., and Lindsey Repshas of Spartanburg, S.C., along with fellow volunteers and community members in Moldova, recently brought 40 youth ages 16-25 together from eight European countries for BE ACTIVE, a cultural exchange and leadership workshop. The summit, sponsored by the European Union, lasted eight days and aimed to promote volunteerism, civic engagement, and the importance of democracy. The event connected youth from Armenia, Azerbaijan, Italy, Moldova, Romania, Spain, Turkey and Ukraine, fostering personal relationships among youth from countries that don't have diplomatic relationships. The English-only summit also served to sharpen participants' English language skills.
"During the workshop, participants had the chance to be active together and to share how they focus on physical, civic, social and intellectual activities in their countries," said Demmel, a graduate of The University of Nebraska–Lincoln who has been living in Moldova since 2012. "This project helps citizens of many different countries with different cultures and histories come together to recognize and appreciate the diversity they offer each other. The workshop facilitates shared visions of democracy, active citizenship, and peaceful living."
Panama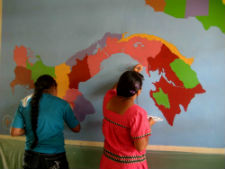 Peace Corps volunteers Kelly and Pete Brands of New Berlin, Wisc., are teaching middle school students in Panama about geography and culture with maps. Twenty of their students recently collaborated to paint a world map on the walls of their middle school library that is serving as an educational tool for teachers and promoting discussions among students about Panama and other parts of the world.
"The maps have facilitated much discussion about the world, including the locations of Panama and the U.S., and the diversity of languages and religions that exist in other parts of the world," said Kelly, a graduate of the University of Wisconsin-Madison who has been living in Panama with her husband since 2012. "Everyone seems to be very proud of the maps and thinks they are a beautiful addition to the library."
About the Peace Corps: As the preeminent international service organization of the United States, the Peace Corps sends Americans abroad to tackle the most pressing needs of people around the world. Peace Corps volunteers work at the grassroots level with local governments, schools, communities, small businesses and entrepreneurs to develop sustainable solutions that address challenges in education, health, economic development, agriculture, environment and youth development. When they return home, volunteers bring their knowledge and experiences – and a global outlook – back to the United States that enriches the lives of those around them. President John F. Kennedy established the Peace Corps in 1961 to foster a better understanding among Americans and people of other countries. Since then, more than 215,000 Americans of all ages have served in 139 countries worldwide. Visit www.peacecorps.gov to learn more.
# # #
---