FOR IMMEDIATE RELEASE:
Wednesday, November 6, 2013
Peace Corps Volunteers Publish Children's Book to Help Fight Malaria in Madagascar
WASHINGTON, D.C., Nov. 7, 2013 – Peace Corps volunteers Raegan and Patrick Spencer of Sterrett, Ala., are educating schoolchildren in Madagascar about the causes and dangers of malaria and disease prevention through storytelling. The couple wrote, illustrated and published "The Story of Soa and the Moka," a 40-page children's book, along with an accompanying classroom curriculum that will soon be distributed throughout communities across Madagascar.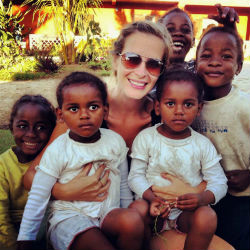 "Malaria is endemic in 90 percent of Madagascar, and 100 percent of the Malagasy population is considered to be at-risk," said Raegan, who has been working in Madagascar as an education volunteer with her husband since 2012. "Admittedly, I knew very little about malaria before arriving in Madagascar. Becoming educated about the disease, preventive measures, and how to combat malaria gave me the motivation to turn the campaign to those who are most susceptible: children."
The Spencers first came up with the idea for the book while visiting an orphanage in southeastern Madagascar last year. After witnessing the children's natural curiosity, the couple realized that an engaging book with relatable characters would be the perfect venue for children to absorb information about malaria.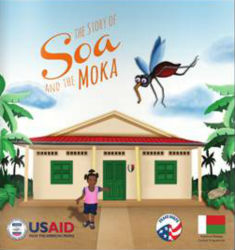 "Elements of the story are pulled from a number of my experiences in Madagascar as a Peace Corps volunteer and from my own childhood," Raegan said. "I want to give children in Madagascar the opportunity to engage with a character that they find courageous, spirited and curious as she learns about malaria."
After drafting the text and creating accompanying graphics, the Spencers developed a classroom curriculum to supplement "The Story of Soa and the Moka" to reach a wider audience. Both the book and the curriculum target schoolchildren ages five to eight. The curriculum helps teachers plan a two-week, anti-malaria campaign featuring teacher and student-led lessons intended to encourage students who have read the story to share their reflections with their classmates. Community members and local teachers contributed to the final curriculum, which is now being reviewed by the country's malaria control program.