FOR IMMEDIATE RELEASE:
Monday, August 11, 2014
Peace Corps Volunteers Promote Understanding and Support for People with Disabilities in Armenia
WASHINGTON, D.C., August 11, 2014 - Peace Corps volunteers in Armenia are collaborating with local non-governmental organizations to help communities create inclusive environments for children and adults with disabilities.
"Having an intellectual disability remains a stigma in Armenia and there is a misunderstanding among the general community of what having a disability means," said Peace Corps volunteer Lauren Engel of Baltimore, Md.
Engel and her fellow Peace Corps volunteers are enhancing the capacity of parents, teachers and families in Armenia to care for and support loved ones with disabilities and foster a more inclusive environment.
Below find three examples of how Peace Corps volunteers are changing the lives of people with disabilities in Armenia.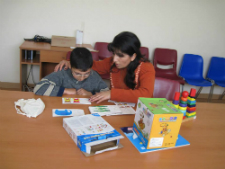 Lauren Engel of Baltimore, Md., is working with a local non-governmental organization to increase community awareness around disabilities so parents and teachers can better support their children. With funding from a U.S. Agency for International Development (USAID)-Peace Corps Small Projects Assistance grant, the families received hands-on practice and guidance from a professional specialist on the latest methods.
"Prior to the project, many of the parents and their children were very isolated and lacked support from others," Engel said. "They have now formed friendships, are enthusiastic about new projects, and have the knowledge and skills they need to support their children. There's a very noticeable increase in confidence in the parents because of the network they have created with each other."
The project is the first of its kind in Armenia, and the U.S. Ambassador to Armenia John Heffern recently visited the organization to express his support for its work. During his visit, Ambassador Heffern met with staff, parents and children involved in the project and took part in trainings.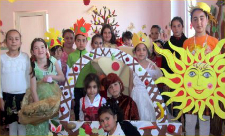 Bekkah Bernheim of China, Maine, is working with a local non-governmental organization that provides rehabilitation and therapy services, and helps to protect the rights and dignity of children with disabilities. Bernheim and her Armenian co-workers recently planned a week-long camp to promote inclusive education for 30 children ages 7-14. Camp Care will teach the importance of personal and community health in an inclusive environment and culminate with a community clean-up activity.
"Our organization is at the heart of the community," Bernheim said. "It gives kids a safe and structured place to go after school and opportunities they otherwise would not have to learn dance, art, wood carving, handicrafts, English, Russian and much more."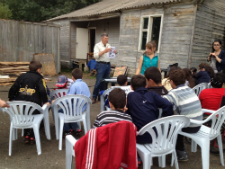 George Constantino of Anchorage, Alaska, launched an inclusive after-school program for children with disabilities. The project combined supplemental education classes and life skills development for more than 40 children and helps promote their successful integration into their local communities.
Constantino is also working with a local non-governmental organization to support initiatives that benefit people living with disabilities. Constantino recently trained fellow Armenian staff in fundraising, which led to a successful donation of clothes, wheelchairs and other supplies. To better understand the needs and attitudes of the organization's clients and improve their internal operations, he secured a 15-month institutional development grant that has enabled staff to conduct professional surveys.
"Providing this organization with greater capability and the confidence to improve the lives of children with disabilities, and see their integration into society is a living legacy of my Peace Corps service," Constantino said.
About Peace Corps/Armenia: There are currently 73 volunteers in Armenia working in the areas of community and youth development and English education. During their service in Armenia, volunteers learn to speak Armenian. More than 860 Peace Corps volunteers have served in Armenia since the program was established in 1992.
About the Peace Corps: As the preeminent international service organization of the United States, the Peace Corps sends Americans abroad to tackle the most pressing needs of people around the world. Peace Corps volunteers work at the grassroots level with local governments, schools, communities, small businesses and entrepreneurs to develop sustainable solutions that address challenges in education, health, economic development, agriculture, environment and youth development. When they return home, volunteers bring their knowledge and experiences—and a global outlook—back to the United States that enriches the lives of those around them. President John F. Kennedy established the Peace Corps in 1961 to foster a better understanding among Americans and people of other countries. Since then, more than 215,000 Americans of all ages have served in 139 countries worldwide. Visit www.peacecorps.gov to learn more.
# # #
---