FOR IMMEDIATE RELEASE:
Wednesday, June 8, 2011
Peace Corps Volunteers Partner with Special Olympics Athletes in Morocco
Washington, D.C., June 8, 2011 More than 20 Americans serving as Peace Corps volunteers supported 250 athletes with intellectual disabilities at the Special Olympics games in Tangier, Morocco on May 25, 2011. The athletes competed in track & field, table tennis, bocce, or gymnastics. Volunteers supervised the competition, kept score, cheered, and awarded medals at the closing ceremony of the games.
"It was rewarding to see the children excited about the competition, said Peace Corps volunteer Jacqueline Stewart who is serving with her husband Jim Stewart. Some were just happy to finish and it wasnt about winning. The affection they have for one another was really wonderful. Jacqueline Stewart and Jim Stewart are from Braintree, Ma. Jim Stewart, noted that one of the highlights of the games was cheering on a 12-year-old boy who completed a 50-meter race with his four-wheel walker. At the closing ceremony, Jim awarded him with a gold medal.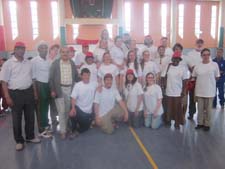 This is the first time Peace Corps volunteers in Morocco have participated in the Special Olympics, which was created by Peace Corps founding Director Sargent Shrivers wife, Eunice Kennedy Shriver, since a
Memorandum of Understanding
(MOU) was signed. Peace Corps Director Aaron S. Williams and Special Olympics Chairman and CEO Timothy Shriver signed the MOU in March 2011 to increase opportunities to support youth and people with intellectual disabilities through innovative programs around the world.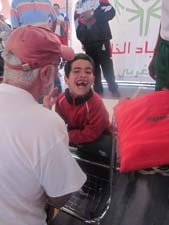 It was an emotional day for me because it reminded me of my family, said volunteer Sarah Hollemans of Grand Rapids, Mich., whose oldest brother has cerebral palsy. There were times when I teared up. Just seeing one kid reminded me of my brother. Im glad Peace Corps volunteers are joining the effort to promote the Special Olympics in communities in Morocco because people with disabilities are an underserved population.
In addition to Morocco, Peace Corps volunteers are participating in Special Olympics initiatives in countries such as Ecuador and Peru. In Washington, D.C., twelve staff members from Peace Corps headquarters volunteered at the Special Olympics D.C. summer games held at Catholic University on May 24, 2011. Staff supervised the softball throw and standing long jump competition and awarded medals at the closing ceremony.
About Special Olympics:
Special Olympics is an international organization that changes lives by encouraging and empowering people with intellectual disabilities, promoting acceptance for all, and fostering communities of understanding and respect worldwide. Founded in 1968 by Eunice Kennedy Shriver, the Special Olympics Movement has grown from a few hundred athletes to nearly 3.5 million athletes in over 170 countries in all regions of the world, providing year-round sports training, athletic competition and other related programs. Special Olympics now takes place every day, changing the lives of people with intellectual disabilities in places like China and from regions like the Middle East to the community playgrounds and ballfields in every small neighborhoods backyard. Special Olympics provides people with intellectual disabilities continuing opportunities to realize their potential, develop physical fitness, demonstrate courage, and experience joy and friendship. Visit Special Olympics at www.specialolympics.org.
About the Peace Corps:
President John F. Kennedy established the Peace Corps on March 1, 1961, by executive order. Throughout 2011, Peace Corps is commemorating 50 years of promoting peace and friendship around the world. Historically, more than 200,000 Americans have served with the Peace Corps to promote a better understanding between Americans and the people of 139 host countries. Today, 8,655 volunteers are working with local communities in 77 host countries. Peace Corps volunteers must be U.S. citizens and at least 18 years of age. Peace Corps service is a 27-month commitment. Visit www.peacecorps.gov for more information.
# # #
---