FOR IMMEDIATE RELEASE:
Wednesday, November 7, 2012
Peace Corps Volunteers Organize Women's Empowerment Conference in Togo
WASHINGTON, D.C., November 8, 2012 – Peace Corps volunteers Katy Todd of Forestville, Calif., and Melissa Bernard of Freeport, Maine, are working with local Togolese community members to promote women's empowerment by organizing the third annual national women's wellness and empowerment conference.
Throughout the five-day conference, 30 women will participate in seminars and activities to enhance their personal development and entrepreneurial skills. Seminar topics will include family planning, maternal health, nutrition, food security, social entrepreneurship and financial literacy. A portion of the funds for the project will be raised through the Peace Corps Partnership Program (PCPP), a program that helps support Peace Corps volunteer community projects worldwide.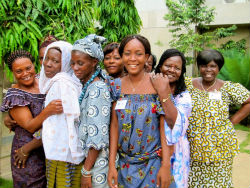 "In my community, women are often overlooked as a resource," said Todd a graduate of the University of California, Los Angeles, who has been living and working in Togo since June 2011. "They are the hubs of their communities, and in addition to raising their children and managing their homes, women participate in many informal activities from church groups to savings clubs."
A small women's group based in the Western Plateau region developed the concept for the inaugural conference, which took place in May 2011.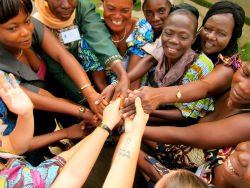 "The information discussed in the first conference has reached more than 100 female leaders from all of Togo's five regions," continued Todd. "In follow-up visits with past participants, we have seen that 100 percent of these women have taken what they learned back to their communities and shared it with those around them."
In order to receive funding through the PCPP, a community must make a 25 percent contribution to the total project cost and outline success indicators for the individual projects. This helps ensure community ownership and a greater chance of long-term sustainability.
"The conference helps women realize their potential to become leaders and role models, and to have a positive impact on those around them," said Bernard, who has been living and working in Togo since September 2011. "Participants leave equipped not only with valuable information, but with confidence in themselves and a belief that they can make a difference."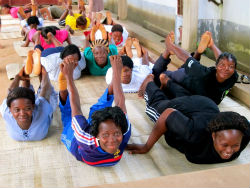 One hundred percent of each tax-deductible PCPP donation goes toward a development project. Those interested in supporting Todd and Bernard's project in Togo can visit: www.peacecorps.gov/donate. The project number is 693-409.
About Peace Corps/Togo: More than 2,680 Peace Corps volunteers have served in Togo since the program was established in 1962. Currently, 118 volunteers serve in Togo. Volunteers work in the areas of education, environment, health, business, and information technology. Volunteers are trained and work in the following languages: Adja, Bassar, Ewe/Watchi, French, Gourma, Haoussa, Ifè (Ana), Kabiyé, Kotokoli, Mina, and Tchokossi (Anoufo).
About the Peace Corps: Since President John F. Kennedy established the Peace Corps by executive order on March 1, 1961, more than 210,000 Americans have served in 139 host countries. Today, 8,073 volunteers are working with local communities in 76 host countries in agriculture, community economic development, education, environment, health and youth in development. Peace Corps volunteers must be U.S. citizens and at least 18 years of age. Peace Corps service is a 27-month commitment and the agency's mission is to promote world peace and friendship and a better understanding between Americans and people of other countries. Visit www.peacecorps.gov for more information.
# # #
---