FOR IMMEDIATE RELEASE:
Tuesday, June 18, 2013
Peace Corps Volunteers Organize Training for Local Nurses in Armenia to Reduce HIV/AIDS
Training supported by Peace Corps partner PEPFAR, which celebrates its 10th anniversary today
WASHINGTON, D.C., June 18, 2013 – Peace Corps volunteers Lisa Conder of Englewood, Fla., and Matt Forgue of Lexington, Ky., recently collaborated with Peace Corps staff to organize a three-day community health training workshop for 15 nurses from five regions throughout Armenia focused on ways to reduce HIV/AIDS among migrant populations. The workshop was funded through the President's Emergency Plan for AIDS Relief (PEPFAR), a Peace Corps partner that is celebrating its 10th anniversary today by highlighting progress in the global fight against AIDS.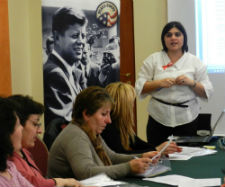 "I organized this workshop after learning that I could apply for PEPFAR funds," said Conder, who has been a volunteer in Armenia since 2009. "I wanted to design an HIV/AIDS outreach project that would have a long-term impact through the training of healthcare workers who could then target the migrant populations in their communities."
The workshop included sessions on transmission and prevention, testing and counseling, and Armenia's legislation on HIV and migration led by representatives from The National Center for AIDS Prevention. A local non-governmental organization also led a discussion on combating HIV/AIDS stigma and discrimination.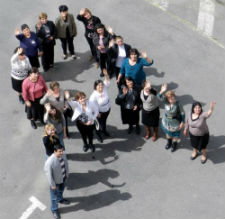 "Each participant is responsible for training two additional healthcare workers on information learned during the workshop," said Forgue, who has been serving in Armenia since 2011. " Participants will also hold their own community workshops to promote awareness around HIV/AIDS in their communities and discuss prevention methods, and available testing and treatment options."
To support the workshop's effectiveness and enhance its reach, participants were asked to share what they learned regularly with their patients -- particularly migrant workers and their families -- about HIV/AIDS transmission, prevention, testing and treatment. Conder, Forgue and Peace Corps staff also plan to follow-up with participants to monitor and evaluate their success in raising awareness and educating their communities.
About Peace Corps/Armenia: More than 830 Peace Corps volunteers have served in Armenia since the program was established in 1992. Currently, 86 volunteers serve in Armenia. Volunteers work in the areas of community and youth development, and English education. Volunteers are trained and work in Armenian.
About the Peace Corps: Since President John F. Kennedy established the Peace Corps by executive order on March 1, 1961, more than 210,000 Americans have served in 139 host countries. Today, 8,073 volunteers are working with local communities in 76 host countries in agriculture, community economic development, education, environment, health and youth in development. Peace Corps volunteers must be U.S. citizens and at least 18 years of age. Peace Corps service is a 27-month commitment and the agency's mission is to promote world peace and friendship and a better understanding between Americans and people of other countries. Visit www.peacecorps.gov for more information.
# # #
---