FOR IMMEDIATE RELEASE:
Tuesday, May 19, 2015
Peace Corps Volunteers Organize Swaziland's First-Ever Boys Empowerment Camp
WASHINGTON, D.C., May 19, 2015 – Peace Corps volunteers Conor McGee of Boise, Idaho, and Jordan Ricketts of Redmond, Oregon, recently worked with fellow volunteers and community members across Swaziland to organize the country's first Camp BRO – Boys Reaching Out – to teach young men about gender-related topics rarely addressed in schools. The week-long camp, inspired by the widespread success of Camp GLOW (Girls Leading Our World), engaged 30 young men from high schools around the country in discussions on gender equality, lifestyle choices, reproductive health, domestic violence prevention and planning for the future.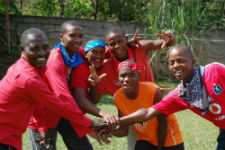 "It was so rewarding to see the students slowly open up throughout the week and see their smiles grow larger each day," said Ricketts, a graduate of Northern Arizona University who has been living in Swaziland since 2014.
After seeing the positive effects of Camp GLOW on local girls and women, McGee and Ricketts, their fellow Peace Corps volunteers, and Swazi community members organized Camp BRO to address uniquely male issues. The camp was held in collaboration with local nongovernmental organizations and included trainings and discussions led by both volunteers and local community leaders.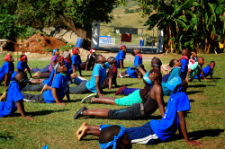 "Getting students together from across the country is a great thing, as many of them have never left their community," Ricketts said. "This is the first time they've been able to interact with students from other schools."
Many of the participating Peace Corps volunteers host a regular boys club in their community, and Camp BRO was designed to complement those clubs.
"Peace Corps volunteers bring boys to the camp and the boys will bring the enthusiasm, knowledge, and skills they developed at the camp back to their local clubs," Ricketts said.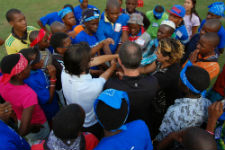 To keep Camp BRO going after his departure from Swaziland, McGee and Ricketts are working closely with fellow volunteers and community members who are interested in organizing the camp next year.
About Peace Corps/Swaziland: There are 76 volunteers in Swaziland working with their communities on projects in health and youth development. During their service in Swaziland, volunteers learn to speak siSwati. More than 1,600 Peace Corps volunteers have served in Swaziland since the program was established in 1968.
About the Peace Corps: The Peace Corps sends the best and brightest Americans abroad on behalf of the United States to tackle the most pressing needs of people around the world. Volunteers work at the grassroots level to develop sustainable solutions that address challenges in education, health, economic development, agriculture, environment and youth development. Through their service, volunteers gain a unique cultural understanding and a life-long commitment to service that positions them to succeed in today's global economy. Since President John F. Kennedy established the Peace Corps in 1961, nearly 220,000 Americans of all ages have served in 140 countries worldwide. For more information, visit www.peacecorps.gov and follow us on Facebook and Twitter.
# # #
---