FOR IMMEDIATE RELEASE:
Friday, September 2, 2011
Peace Corps Volunteers Organize Outdoor Youth Leadership Program in Morocco
Teens climb highest peak in North Africa
WASHINGTON, D.C., Sept. 2, 2011 Thirty youth, ages 15 to 18, participated in the first C.L.I.M.B. (Creating Leadership in the Mountains and Beyond), an outdoor leadership program in Morocco organized by Peace Corps volunteers Peter Kitlas of Bedminster, N.J. and Anna James of Pullman, Wash. from Jan. to July, 2011. At the end of the program, the teens participated in a four-day hike south of Marrakesh to the summit of Mt. Toubkal, the highest peak in North Africa (13,671 ft. elevation).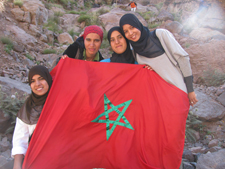 I appreciate the positive impact that wilderness adventures had on my personal development, and I was excited to share similar experiences with young people in Morocco, said James, a graduate of Willamette University. Through C.L.I.M.B., participants learned to incorporate outdoor excursions with leadership building activities, and gained a deep appreciation for the environment and a sense of pride in their country.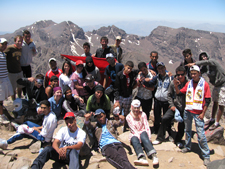 During the program, students learned about environmental awareness, leadership, teamwork, and first aid. The program taught students to enjoy their natural surroundings through hikes and outdoor sports. The program also cultivated leadership skills and camaraderie through community service projects and team building exercises and games.
At C.L.I.M.B., participants had an opportunity to explore the outdoors, gain self-confidence, and further develop leadership skills, said Kitlas, a graduate of Dartmouth College.
Volunteers James and Kitlas plan to expand the program through collaboration with local organizations and community members.
C.L.I.M.B. received support from the
Peace Corps Partnership Program (PCPP)
, a fund that raises money for Peace Corps volunteer community projects.
About Peace Corps/Morocco:
In 1963, Morocco was among the first countries to invite Peace Corps to assist in its development needs. Nearly 4,320 Peace Corps volunteers have served the Kingdom in supporting many significant contributions to the Moroccan quality of life. In continuing collaboration with governmental partners, Peace Corps/Morocco volunteers are assigned to projects in five primary areas: environment, health, NGO development, small business development, and youth development. Currently, 289 Peace Corps volunteers are serving in Morocco. Volunteers are trained and work in the following languages: Darisha (Moroccan Arabic), French, Tamazight, and Tashelheet.
About the Peace Corps:
President John F. Kennedy established the Peace Corps on March 1, 1961, by executive order. Throughout 2011, Peace Corps is commemorating 50 years of promoting peace and friendship around the world. Historically, more than 200,000 Americans have served with the Peace Corps to promote a better understanding between Americans and the people of 139 host countries. Today, 8,655 volunteers are working with local communities in 76 host countries. Peace Corps volunteers must be U.S. citizens and at least 18 years of age. Peace Corps service is a 27-month commitment. Visit www.peacecorps.gov for more information.
# # #
---