FOR IMMEDIATE RELEASE:
Friday, February 26, 2010
Peace Corps Volunteers Organize Olympic Games in Local Communities
WASHINGTON, D.C., Feb. 26, 2010 Peace Corps volunteers are drawing upon worldwide Olympic spirit by organizing their own versions of Olympic events in their local communities to engage local youth by teaching sportsmanship, leadership and confidence.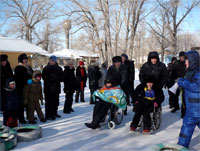 Kazakhstan Peace Corps volunteer Shannon Huett of Poplar Bluff, Missouri recently organized the first winter paralympic games for disabled youth at a rehabilitation center in the community she lives and works in. The project was designed to increase the childrens confidence and raise awareness about providing needed services for disabled youth in the local community by creating Olympic-like sports and activities.
The games opened with a torch relay and a parade behind the communitys custom-made Olympic flag.
Twenty participants, aged 14 to 25, participated in ice-skating, darts, billiards, ping-pong, basketball, paintball, karaoke, frisbee, swimming, and group games such as tug-of-war, wheelchair races, -ice-sled races, and a dance party.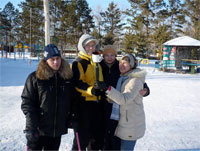 Dynara, a 25-year-old Kazakh woman with hip and leg disabilities, was able to ice-skate for the first time in her life.
If you know anything about winter here in Pavlodar [Kazakhstan], you know that ice-skating is a big deal, said Huett, an organizational and community development volunteer with a B.A. and M.B.A. from Drury University. Dynara has asked me since then when we will get to go again. She was thrilled!
The rehabilitation center was also able to hold an afternoon of games at the local pool thanks to additional support from seven university students studying physical therapy and one of their professors.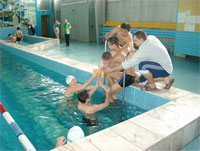 I got to see the joy in their smiles, said Huett, a former lifeguard. Being with the youth of the rehabilitation center in the pool made me realize how much I and all those whom I have taught can assist in making someone\'s life better by introducing disabled youth to the sport of swimming.
In late April, Peace Corps volunteers in Jordan will hold their third-annual Olympic games in the community. More than 100 youth are set to participate in Jordan\'s National Physical Education Games, which is coordinated with Peace Corps youth development volunteers and the Higher Council for Youth.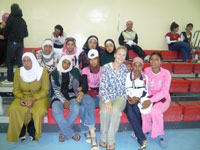 This year, Peace Corps volunteers hope to tap support from The Jordan Olympic Committee to help prepare Jordanian youth for the Olympic events, which include soccer, basketball, and five track and field events. In previous years, youth were trained by Peace Corps volunteers.
More than 419 individuals have served in the Hashemite Kingdom of Jordan since the government first invited Peace Corps Volunteers in May 1997, Currently, 30 Volunteers serve in Jordan.
Over 1,043 Peace Corps Volunteers have served in Kazakhstan since the program was established in 1993. Volunteers in this Central Asian nation work in the areas of education, community development, and youth development. Currently, 165 Volunteers serve in Kazakhstan.
As Peace Corps approaches its 50th anniversary, its service legacy continues to promote peace and friendship around the world with 7,671 volunteers serving in 76 host countries. Historically, nearly 200,000 Americans have served with the Peace Corps to promote a better understanding between Americans and the people of 139 host countries. Peace Corps Volunteers must be U.S. citizens and at least 18 years of age. Peace Corps service is a 27-month commitment. To learn more about the Peace Corps, please visit our website: www.peacecorps.gov
# # #
# # #
---