FOR IMMEDIATE RELEASE:
Thursday, August 18, 2011
Peace Corps Volunteers Organize Leadership Camps for Young Women
WASHINGTON, D.C., August 18, 2011 Peace Corps volunteers around the world organize and lead GLOW (Girls Leading Our World) Camps throughout the summer months to promote gender equality and empower young women. GLOW camps, which range from day-long sessions to week-long overnight programs, create a safe and supportive environment for learning, cultural exchange, individuality, creativity, leadership development, and fun.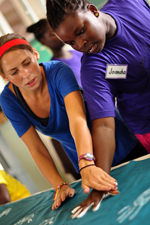 Peace Corps volunteers worldwide lead GLOW Camps to help young women become better leaders, and to create stronger communities, said Peace Corps Director Aaron S. Williams. Volunteers work with community leaders to design GLOW programs that reflect the unique characteristics and diversity of the local area. Last summer, Peace Corps Director Williams visited a GLOW Camp in Macedonia.
The first GLOW Camp was established by Peace Corps volunteers in Romania in 1995, when three volunteers and four Romanian teachers took 80 young women to a mountain campsite for a weeklong leadership camp to help the young women improve their self-esteem and develop life skills. Since 1995, Peace Corps volunteers in more than 60 countries have established similar programs to promote the empowerment of women. In 2010, nearly 1,800 Peace Corps volunteers organized GLOW Camps or similar camps in host countries around the world.
The following are GLOW Camp success stories from four Peace Corps posts: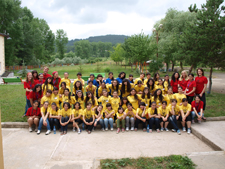 Armenia
In July 2011, Peace Corps volunteers in Armenia, Amanda Pascal of Ft. Lauderdale, Fl., and Maggie Woznicki of Woodstock, Ill., worked with a youth center to organize a seven-day GLOW Camp with other Peace Corps volunteers for 44 young women in Stepanavan, Armenia. During each day of the camp, the young women discussed a new topic such as leadership, self-confidence, critical thinking, gender roles, and HIV/AIDS prevention. The young women also participated in field trips and heard presentations from community groups and local organizations.
Cambodia
In March 2011, a Peace Corps volunteer in Cambodia, Jeremy Golan of Montclair, N.J., organized a GLOW Camp in southern Cambodia benefiting 25 young women, ages 16 to 19. The camp focused on leadership, public speaking, and health. When the girls returned to their communities, they gave formal presentations to their friends and peers about new skills they learned at GLOW Camp.
Ethiopia
In July 2011, 19 Peace Corps volunteers in Ethiopia organized a five-day GLOW Camp at Gondar University benefiting 46 girls, ages 14 to 18, from the Amhara region of Ethiopia. The young women learned about leadership, the environment, health, gender equality, and career opportunities through interactive presentations. The young women also participated in a community service project for the Gondar University Hospital childrens ward.
Suriname
In April 2011, Peace Corps volunteer Erin Jurkovich of Marysville, Wash., organized a three-day GLOW Camp off the Cottica River benefiting 28 girls from six villages in Suriname. The goal of the camp was to teach participants about healthy choices regarding relationships, health, and future careers. The girls learned about HIV/AIDS prevention, and women\'s health. They also participated in a career day where women leaders attended the camp and spoke about their professions. Guest speakers included a Member of Parliament, a journalist, a nurse, a teacher, an entrepreneur, and a member of the Ministry of Youth and Sport.
We wanted the girls to feel special, build their self-esteem, and to introduce them to people like themselves, that have come from the same background, whove gone on to be very successful and powerful women in Suriname. We also wanted to give them a chance to really explore their talents and skills and develop their ability and confidence to make good decisions, said Peace Corps volunteer and GLOW Camp organizer Jurkovich.
For more information about Peace Corps GLOW Camps visit
Peace Corps on YouTube
.
About the Peace Corps:
President John F. Kennedy established the Peace Corps on March 1, 1961, by executive order. Throughout 2011, Peace Corps is commemorating 50 years of promoting peace and friendship around the world. Historically, more than 200,000 Americans have served with the Peace Corps to promote a better understanding between Americans and the people of 139 host countries. Today, 8,655 volunteers are working with local communities in 76 host countries. Peace Corps volunteers must be U.S. citizens and at least 18 years of age. Peace Corps service is a 27-month commitment. Visit www.peacecorps.gov for more information.
# # #
---