FOR IMMEDIATE RELEASE:
Thursday, May 26, 2011
Peace Corps Volunteers Organize First English Spelling Bee in Bulgaria
Competition promotes reading and English comprehension
Washington, D.C., May 26, 2011 Peace Corps volunteers Felicia Bivens, of Fayetteville, Tenn., and Erin Raleigh, of Louisville, Ky., organized Bulgarias first National English Spelling Bee. The Spelling Bee was supported by more than 50 Peace Corps volunteers who organized the event with local students and teachers. In March, the volunteers managed preliminary competitions with more than 1,000 students age nine to 14 from 50 schools. The finalists participated in the National English Spelling Bee in Sofia, Bulgaria on May 14, 2011.
The goal of the Spelling Bee is to create a fun and exciting competition for students that improves their English, said Bivens, a Peace Corps community and organizational development volunteer who recently extended her service for a third year. Organizing the Spelling Bee has truly become a labor of love and I am so happy to have had the experience with the students in my community this year. I saw firsthand how enthusiastic they were to participate and how quickly it impacted their language abilities regardless of their skill level."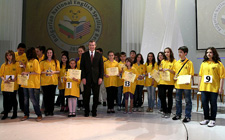 I grew up watching the National Spelling Bee in the United States so I could not be more pleased and excited about the success of the Bulgarian National Spelling Bee, said Raleigh, a Peace Corps community and organizational development volunteer. I really admired the courage of the Bulgarian students who participated in this years Spelling Bee and am in awe of each students intelligence, dedication, and poise while participating in the competition.
The winner of the competition was a thirteen-year-old student from Kostinbrod, Bulgaria, who received a trophy from U.S. Ambassador to Bulgaria James Warlick. The winner and 20 other students who advanced from the regional to the final competition also received a scholarship to an English-language summer camp in July that Peace Corps volunteers will help organize.
The Spelling Bee was developed in collaboration with Peace Corps/Bulgaria volunteers and the Center for Inclusive Education (CIE), and was funded through an America for Bulgaria Foundation grant to CIE.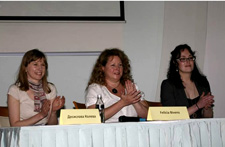 Peace Corps Youth and Community Development Sector:
Peace Corps youth and community development volunteers work with communities to form youth groups, clubs and sports teams. Volunteers also develop extracurricular activities that help local youth build confidence, and develop decision-making, communication, and leadership skills that promote positive relationships with peers, parents and adults. Today, five percent of Peace Corps volunteers work in the youth development sector.
About Peace Corps Bulgaria:
Nearly 1,250 Peace Corps volunteers have served in Bulgaria since the program was established in 1991. Currently, 166 volunteers are serving in Bulgaria. Volunteers in this Balkan nation work in the areas of English education, youth development, and community development. With Bulgarias entry into the European Union, Peace Corps has refocused its efforts to provide support to underserved communities in rural areas. Volunteers are trained and work in Bulgarian.
About the Peace Corps:
President John F. Kennedy established the Peace Corps on March 1, 1961, by executive order. Throughout 2011, Peace Corps is commemorating 50 years of promoting peace and friendship around the world. Historically, more than 200,000 Americans have served with the Peace Corps to promote a better understanding between Americans and the people of 139 host countries. Today, 8,655 volunteers are working with local communities in 77 host countries. Peace Corps volunteers must be U.S. citizens and at least 18 years of age. Peace Corps service is a 27-month commitment. Visit www.peacecorps.gov for more information.
# # #
---