FOR IMMEDIATE RELEASE:
Tuesday, November 12, 2013
Peace Corps Volunteers Organize Competition to Help Panamanian Students Develop English Fluency and Enhance Reading Comprehension
WASHINGTON, D.C., November 12, 2013 – Peace Corps volunteers Rebecca Beitsch of Tallahassee, Fla., and Nick Bringardner of Farmington Hills, Mich., recently joined forces to organize a Readers Theater competition in Panama to actively engage their students in reading, writing and speaking English.
"Teachers often struggle to find interactive activities that go beyond copying and memorizing," Bringardner said. "Our hope is that seeing the success of the event will provide an example of better methods for the classroom."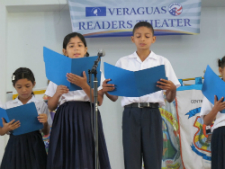 Readers Theater is an integrated learning approach in which students read a script aloud and use their voice, facial expressions and gestures to bring the scene to life – without stage settings, costumes or props. Nearly 200 students from fourth grade to high school performed in small groups to practice using their voice and intonation to tell the stories of childhood favorites from the U.S., including Dr. Seuss and Shel Silverstein, author of "The Giving Tree." The competition, which included students from 15 different schools, gave the participants the opportunity to develop fluency and enhance their reading comprehension.
Prior to the competition, Beitsch and Bringardner held seminars for the local teachers to explain how they can use Readers Theater in their classrooms. Over the following four months, Peace Corps volunteers from across the region met with participating schools to help their teams prepare for the competition.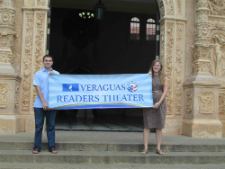 "We thought this would be a great way to promote reading and help students gain confidence," Beitsch said. "I saw a lot of dedication from students, and with time, the kids were not only reading but expressing the emotions of the characters. It was really nice to see them come out of their shells and have fun at school."
Bringardner and Beitsch have both been teaching English in Panama since January of 2012.
Bringardner is a graduate of the University of Michigan, and Beitsch is a graduate of the University of Missouri.
About Peace Corps/Panama: More than 2,150 Peace Corps volunteers have served in Panama since the program was established in 1963. Currently, 237 volunteers serve in Panama. Volunteers work in the areas of community development, English education, environment, health and agriculture. Volunteers are trained and work in the following languages: Embera, Ngabe, Spanish, Wounaan and Naso.
About the Peace Corps: Since President John F. Kennedy established the Peace Corps by executive order on March 1, 1961, more than 210,000 Americans have served in 139 host countries. Today, 8,073 volunteers are working with local communities in 76 host countries in agriculture, community economic development, education, environment, health and youth in development. Peace Corps volunteers must be U.S. citizens and at least 18 years of age. Peace Corps service is a 27-month commitment and the agency's mission is to promote world peace and friendship and a better understanding between Americans and people of other countries. Visit www.peacecorps.gov for more information.
# # #
---