FOR IMMEDIATE RELEASE:
Wednesday, July 25, 2012
Peace Corps Volunteers Organize Business Seminar for Malawian Community
WASHINGTON, D.C., July 25, 2012 - Peace Corps volunteers Jacob Strawn of Springfield, Ill., Adam Gaskins of Walton, Ky., Erin Reissman of Charlestown, Mass., and Christian Porter of Brewster, Mass., held a five-day seminar in late June for 20 local small business owners and entrepreneurs in their Malawian community, teaching best practices in business and marketing.
"The format of teaching adults versus students was a huge success," said Gaskins, who has been living and working in Malawi since February 2011. "They blew us away with their enthusiasm and level of understanding. We have no doubt that some of them will be very successful."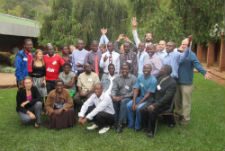 During the seminar, participants listened to presentations by Peace Corps volunteers and received feedback on draft business plans. While a majority of the lessons were held in English, several prominent guest speakers and business professionals also shared motivating testimonials and advice with participants in their native Chichewa. On the final day of the seminar, each participant presented his or her newly developed business plan.
"I feel confident about the leaders in the business communities after PCBS [the Peace Corps Business Seminar]," said Porter. "Strong economic ideas coupled with social responsibility in such fields as HIV/AIDS, nutrition, and deforestation made for a promising look into the business future of Malawi."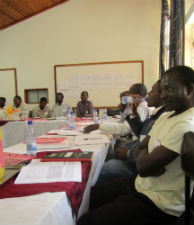 The program was funded by a Volunteer Activities Support and Training (VAST) grant, a small project fund through the President's Emergency Plan for AIDS Relief, with the hope that more successful men and women will be able to provide better education for their children and promote a greater understanding of topics such as HIV/AIDS prevention and gender equality.
About Peace Corps/Malawi: More than 2,520 Peace Corps volunteers have served in Malawi since the program was established in 1963. Currently, 126 volunteers serve in Malawi. Volunteers work in the areas of education, environment, agriculture and health. Volunteers are trained and work in the following languages: Chichewa, Chilambya, Chilomwe, Chindali, Chisena, Chitonga and Chitumbuka.
About the Peace Corps: Since President John F. Kennedy established the Peace Corps by executive order on March 1, 1961, more than 200,000 Americans have served in 139 host countries. Today, 9,095 volunteers are working with local communities in 75 host countries. Peace Corps volunteers must be U.S. citizens and at least 18 years of age. Peace Corps service is a 27-month commitment and the agency's mission is to promote world peace and friendship and a better understanding between Americans and people of other countries. Visit www.peacecorps.gov for more information.
# # #
---