FOR IMMEDIATE RELEASE:
Tuesday, October 29, 2013
Peace Corps Volunteer's Love of Running Helps to Promote Cultural Exchange and Community Development in Indonesia
WASHINGTON, D.C., October 29, 2013 – Peace Corps education volunteer Shane Butler of South Lake Tahoe, Calif., loves running, and he's using his love of running to engage his local community in East Java, Indonesia.
"When I first arrived, people thought I was crazy running around the hills," said Butler, a graduate of the University of California at Santa Barbara. "Then they got used to it, and then my students joined me. Now I see more and more people practicing on their own. Running is so healthy for your physical health as well as your state of mind and willpower, so it's been really rewarding to watch this transformation."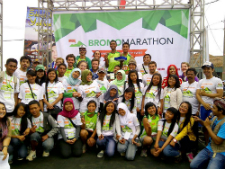 Working with members of his community, Butler recently planned and hosted the first-ever marathon in the Mount Bromo region to infuse the local economy and bring people from all over the world together to learn about the local culture. More than 900 people ran in the race, and runners represented more than 30 countries, including Australia, Brazil, Germany, India, South Korea, the United Kingdom and the United States.
Another 5,000 people came to watch the event and join the festivities, which included an arts and culture festival the evening before the marathon. The festival promoted all aspects of the local culture and featured dance and music performances, art displays, and traditional cuisine.
"My hope for the project was to allow these rather isolated, low resource communities to use their environment and culture as a tool to promote education, health, and intercultural interaction, while boosting economic prosperity throughout the region," Butler said.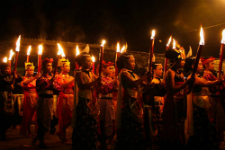 The project generated income for area restaurants and hotels, and donations were collected to support five school libraries in four different villages as well as one community library in the region. The donations will fund more books, tables and chairs at the libraries, and training for staff and students on library maintenance.
By involving a number of local community members in the planning of the marathon, Butler is hopeful the marathon will continue in the future.
Butler teaches regularly at a local high school and runs an English conversation club. He also coaches cross-country running, and all 25 members of his cross-country team participated in the marathon. In addition to regular fitness training, cross-country team members learn about nutrition, fitness, hygiene, and social responsibility.
About Peace Corps/Indonesia: Nearly 135 Peace Corps volunteers have served in Indonesia since the program was established in 2009. Currently, 66 volunteers serve in Indonesia. Volunteers work in the area of English education. Volunteers are trained and work in the language Bahasa Indonesia.
About the Peace Corps: Since President John F. Kennedy established the Peace Corps by executive order on March 1, 1961, more than 210,000 Americans have served in 139 host countries. Today, 8,073 volunteers are working with local communities in 76 host countries in agriculture, community economic development, education, environment, health and youth in development. Peace Corps volunteers must be U.S. citizens and at least 18 years of age. Peace Corps service is a 27-month commitment and the agency's mission is to promote world peace and friendship and a better understanding between Americans and people of other countries. Visit www.peacecorps.gov for more information.
# # #
---