FOR IMMEDIATE RELEASE:
Friday, June 21, 2013
Peace Corps Volunteers Look to Advance Economic Development and Create Jobs in their Communities through Tourism
WASHINGTON, D.C., June 21, 2013 - Peace Corps volunteers around the world are helping their local communities boost tourism to support sustainable economic development and increase employment.
Below find two examples of Peace Corps volunteer projects focused on promoting travel and tourism to their community.
Belize
In Belize, Peace Corps volunteer Subrata Basu of Miami, Fla., is working with the local government to develop and implement a strategic and sustainable tourism plan that promotes economic development and job creation while respecting the area's rich cultural heritage. A number of his plan's recommendations have been implemented, including the development of a travel guide, a website, and a self-guided walking tour of the historic downtown. A number of longer-term projects aimed at supporting tourism are also currently underway, such as the revitalization of the downtown area, the development of a riverwalk, and the construction of a marketplace.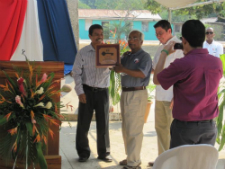 "I feel proud because the community feels that together we have laid out a 'road map' for economic recovery for the town through tourism, and the plan is nationally recognized as a credible model for other municipalities to emulate," said Basu, who has been living and working in Belize since 2011.. "For me the ultimate success is the fact that I have enjoyed the trust and confidence of the community and that the people in this community have allowed me to help them."
Basu was recently award a key to the city for his efforts in a ceremony attended by the country's Minister of Tourism and Culture and the U.S. Ambassador to Belize.
Ghana
Peace Corps volunteer Richie Kneski of Staten Island, N.Y., is working with his Ghanaian community to build a tourism center for visitors that offers information about the community and a nearby archaeological site. The Hani Archaeological Site is one of the most studied archaeological sites in Ghana. Research shows the community had a population of about 10,000 people at its peak and was once one of the largest towns in West Africa. The community was a trading post for Europeans who came in search of slaves, gold and other wares.
The tourism center will include an office, information center, and lodging for guests. Kneski's community will supply the labor and raw materials for the building.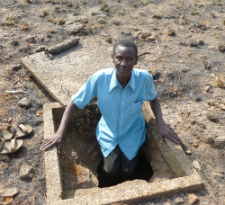 "This project is intended to bring money into the community," said Kneski, a graduate of Temple University who has been living and working in Ghana since 2011. "We want to market the area as a tourism site and increase the community's exposure to stimulate and improve the local economy."
A portion of Kneski's project will be funded through the Peace Corps Partnership Program (PCPP), which helps support Peace Corps volunteer community projects worldwide.
In order to receive funding through the PCPP, a community must make at least a 25 percent contribution to the total project cost and outline success indicators for each individual project. This helps to ensure community ownership and a greater chance of long-term sustainability. One hundred percent of each tax-deductible PCPP donation goes toward a development project.
To support this project in Ghana, visit www.peacecorps.gov/donate and look for project number 641-333.
About Peace Corps/Belize: More than 1,915 Peace Corps volunteers have served in Belize since the program was established in 1962. Currently, 34 volunteers serve in Belize. Volunteers work in the areas of education, business development and health. Volunteers are trained and work in the following languages: Garifuna, Q'eqchi, Kriol, Mopan, and Spanish.
About Peace Corps/Ghana: More than 4,275 Peace Corps volunteers have served in Ghana since the program was established in 1961. Ghana was the first country in the world to receive Peace Corps volunteers. Currently, 149 volunteers serve in Ghana. Volunteers work in the areas of education, environment, agriculture and health. Volunteers are trained and work in the following languages: Buli, Dagaare, Dagbani, Dangme, Ewe, Fanté, Ga, Ghanaian Sign Language, Gonja, Guruni, Hausa, Kasem, Kusaal, Likipakpaalu, Likpakpaln, Mampruli, Nzema, Sisaali, Taleni, Twi and Waale.
About the Peace Corps: Since President John F. Kennedy established the Peace Corps by executive order on March 1, 1961, more than 210,000 Americans have served in 139 host countries. Today, 8,073 volunteers are working with local communities in 76 host countries in agriculture, community economic development, education, environment, health and youth in development. Peace Corps volunteers must be U.S. citizens and at least 18 years of age. Peace Corps service is a 27-month commitment and the agency's mission is to promote world peace and friendship and a better understanding between Americans and people of other countries. Visit www.peacecorps.gov for more information.
# # #
---