FOR IMMEDIATE RELEASE:
Tuesday, October 23, 2012
Peace Corps Volunteers Lead Mangrove Reforestation Effort in Senegal
WASHINGTON, D.C., October 23, 2012 – Peace Corps volunteers Garrison Harward of Ojai, Calif., Robert Rivera of Fremont, Calif. and Jamie Whitehead of Tallahassee, Fla. recently collaborated with more than 45 Peace Corps/Senegal volunteers and 25 local community members to lead the reforestation effort of a mangrove forest in the Sine Saloum Delta region of Senegal. The third annual event resulted in 40,000 red mangrove seedlings planted in the area with the help of a local nongovernmental organization. In 2010, volunteers and their Senegalese counterparts planted 10,000 seedlings, and in 2011 20,000 seedlings were planted.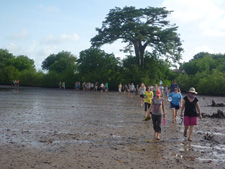 "It's really amazing how the program has grown over the years. It's a testament to the effectiveness of Peace Corps' grassroots approach," said Harward, a graduate of California State University, Chico who has been living and working in Senegal since 2010.
Mangroves help to clean the water and air, prevent erosion, provide habitat, and contribute nutrients to the incredibly fertile waters off the coast of Senegal. The Sine Saloum Delta provides habitat for countless species, including some endangered species, and is essential as a nursery for fish. The red mangrove is slow growing and is especially susceptible to deforestation. The vitality trees the trees provide to the environment means that reforestation is now more important than ever.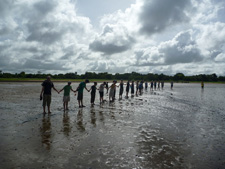 Local community members chose the reforestation site and collected all 40,000 seedlings to ensure their continued ownership and appreciation of the project. Volunteers worked with community members to monitor and evaluate the survival rates and success of previous plantings and will use the data to make improvements to the project as it continues.
"What we're doing is going to have an impact for generations to come, not just because of the new trees, but because of our involvement with the people here" Rivera said.
About Peace Corps/Senegal: More than 3,190 Peace Corps volunteers have served in Senegal since the program was established in 1963. Currently, 254 volunteers serve in Senegal. Volunteers work in the areas of agriculture, environment, health and business. Volunteers are trained and work in the following languages: French, Wolof, Pulaar du Nord, Fulakunda, Pulafuta, Seereer, Malinke, Mandinka and Jaxanke.
About the Peace Corps: Since President John F. Kennedy established the Peace Corps by executive order on March 1, 1961, more than 210,000 Americans have served in 139 host countries. Today, 8,073 volunteers are working with local communities in 76 host countries in agriculture, community economic development, education, environment, health and youth in development. Peace Corps volunteers must be U.S. citizens and at least 18 years of age. Peace Corps service is a 27-month commitment and the agency's mission is to promote world peace and friendship and a better understanding between Americans and people of other countries. Visit www.peacecorps.gov for more information.
# # #
---