FOR IMMEDIATE RELEASE:
Thursday, November 1, 2012
Peace Corps Volunteers Lead Gender Equality Discussion in Azerbaijan
WASHINGTON, D.C., November 1, 2012 - Peace Corps volunteers Rick Wiersma of Rockford, Mich., and Roxann Brown of Wauwatosa, Wis., are working with their community to promote gender equality in Azerbaijan. This included recent group discussions on gender and development with more than 25 Azerbaijani students and community members in southern Azerbaijan. Topics reviewed included the role of gender within families, women's rights and gender equality.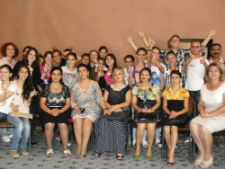 "The goal of the presentations was to promote social awareness as well as critical thinking in local community members," said Wiersma, a graduate of Liberty University who has been living and working in Azerbaijan since September 2011. "We want to get the young members of rural Azerbaijan to start thinking outside of their daily scope of how men and women are seen and valued in Azerbaijan and move into what is possible for the future of their country."
Presentation attendees included local students, teachers, business professionals and parents. Wiersma and Brown began the conversation by asking attendees what gender means to them as a launching point for discussion on societal and familial expectations of women.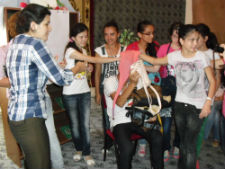 Brown notes that in many areas of Azerbaijan, women are given few alternatives to marriage and motherhood. "The southern region of Azerbaijan is especially conservative," she said. Brown, age 53, has been living and working in Azerbaijan since September 2011. "Many of the bigger cities allow women more freedom to pursue careers. However, Peace Corps volunteers face the challenge of bringing social awareness to the most remote areas of the country."
The presentation concluded with a group discussion on how societal views of gender and women could be shaped to benefit women in rural communities. Participants left the discussion ready to share the information discussed with peers and community members in order to spread the word about gender equality.
About Peace Corps/Azerbaijan: More than 420 Peace Corps volunteers have served in Azerbaijan since the program was established in 2003. Currently, 155 volunteers serve in Azerbaijan. Volunteers work in the areas of education, youth development and community economic development. Volunteers are trained and work in Azerbaijani (Azeri).
About the Peace Corps: Since President John F. Kennedy established the Peace Corps by executive order on March 1, 1961, more than 210,000 Americans have served in 139 host countries. Today, 8,073 volunteers are working with local communities in 76 host countries in agriculture, community economic development, education, environment, health and youth in development. Peace Corps volunteers must be U.S. citizens and at least 18 years of age. Peace Corps service is a 27-month commitment and the agency's mission is to promote world peace and friendship and a better understanding between Americans and people of other countries. Visit www.peacecorps.gov for more information.
# # #
---