FOR IMMEDIATE RELEASE:
Wednesday, October 23, 2013
Peace Corps Volunteers Lead Educational Tour for At-Risk Youth in Namibia
WASHINGTON, D.C., Oct. 24, 2013 – Ten currently serving Peace Corps volunteers in Namibia recently came together in collaboration with a local nonprofit organization to lead a week-long educational tour of the country for 40 at-risk youth. The tour is an annual initiative led by Peace Corps Namibia's diversity committee aimed at providing orphans and marginalized youth -- many of whom have never traveled outside of their own community -- with the opportunity to explore Namibia, develop a respect and appreciation for other local cultures, and build healthy lifestyle and leadership skills.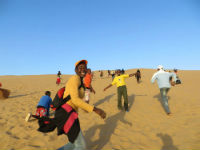 Members of the diversity committee accompanied the students, ages 12-18, to communities and towns throughout Namibia where they had the opportunity to visit historic sites and learn about neighboring cultures. Volunteers also led daily educational sessions on topics that included the ecological future of Namibia, leadership skills, entrepreneurship, community service and financial literacy. The tour concluded with an award ceremony and presentations by students who shared their own cultural experiences with fellow group members.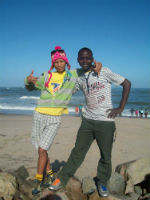 "The tour was a huge success," said Mayank Prasad, a committee member who has been serving in Namibia since 2012. "The students especially enjoyed the American-themed night because they learned about American culture and ate hamburgers, hot dogs and s'mores. I think their favorite part of the tour though was playing on the beach because many of them had never seen the ocean before."
Each year, the diversity committee distributes applications for the tour to fellow Peace Corps volunteers working in low-income schools across Namibia. Volunteers have the option to nominate one student they think would benefit from participating in the tour. The committee and nonprofit organization then select 40 students who come from disadvantaged backgrounds and have never traveled outside of their village or town to join the tour.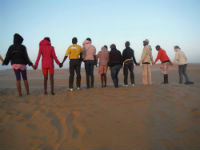 Peace Corps Namibia's diversity committee is comprised of and led by currently serving volunteers who aim to promote a greater awareness and appreciation of diversity among Namibian youth.
About Peace Corps/Namibia: More than 1,345 Peace Corps volunteers have served in Namibia since the program was established in 1990. Currently, 140 volunteers serve in Namibia. Volunteers work in the areas of education, community health and HIV/AIDS, and small business development. Volunteers are trained and work in the following languages: Afrikaans, Damara, Oshikwanyama, Oshindonga, Otijherero, Rukwangali, Silozi and Thimbukusha.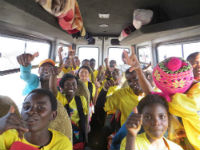 About the Peace Corps: Since President John F. Kennedy established the Peace Corps by executive order on March 1, 1961, more than 210,000 Americans have served in 139 host countries. Today, 8,073 volunteers are working with local communities in 76 host countries in agriculture, community economic development, education, environment, health and youth in development. Peace Corps volunteers must be U.S. citizens and at least 18 years of age. Peace Corps service is a 27-month commitment and the agency's mission is to promote world peace and friendship and a better understanding between Americans and people of other countries. Visit www.peacecorps.gov for more information.
# # #
---