FOR IMMEDIATE RELEASE:
Wednesday, March 31, 2010
Peace Corps Volunteers Lead Camps for Girls
WASHINGTON, D.C., March 31, 2010 Peace Corps volunteers in over 60 posts worldwide are empowering young women by organizing Camp GLOW (Girls Leading Our World) programs that encourage self confidence, challenge campers to think beyond traditional gender roles, and address the unique societal and health issues that young women face in their communities.
Every Camp GLOW empowers young women to embrace leadership roles, develop relevant skills, and aspire to achieve their dreams. Many camps aim to connect girls with successful host country female role models. GLOW Camps also provide a structured environment for cultural exchange, mutual sharing and fun. Individual Camp GLOW programs are unique and allow Peace Corps volunteer organizers to shape the program to addresses the specific challenges that the young women face in their local communities.
The first Camp GLOW was established in 1995 when Peace Corps/Romania volunteers and the Romanian teachers they worked with came together to address the unique challenges that local young women faced.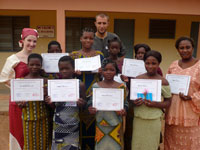 Over the last 15 years, Peace Corps volunteers worldwide have since seized on the successful Camp GLOW model and implemented their own programs. The following are success stories from five of our posts.
Armenia
Last year, Peace Corps/Armenia volunteers Mari Chiba from Portland, Ore., Grace McSoley from Cranston, R.I., and Cassie Warholm-Wohlenh from Lindstrom, Minn. partnered with a local youth center to organize a Camp GLOW. Dozens of girls from ten different regions participated in the five-day camp. In an effort to expand the camp and allow more girls to attend, the Peace Corps volunteers applied for a Peace Corps Partnership Program grant to raise funds for an eight-day camp with over 50 participants. Click
here
to read more about, and donate to, the project.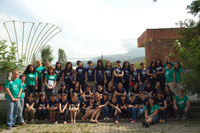 In Armenia, GLOW Camp is the beginning of a year-long program that continues to support participants after camp to help them develop and mature, said Chiba. We publish a newsletter that collects articles from former participants, hold seminars during the year, have a junior counselor program for former participants, and have a small grants program that enables our participants to develop their project management and leadership skills.
Belize
Over the last two years, Peace Corps/Belize volunteers Olivia Szymanski from Menomonie, Wis., Katie McFarland from Charlotte, N.C. and Virginia Gordon from Hingham, Mass. have helped organize a Camp GLOW. The camp addressed healthy relationships, gender issues, nutrition, body image, self esteem, team leadership, arts, and HIV awareness. Once the four day camp was completed, the girls were encouraged to apply their leadership skills and Camp GLOW programming to create Club GLOWs in their local communities when they return home.
Tonga
Peace Corps volunteer Sandra Phillips from Cooperstown, N.Y. worked on two successful Camp GLOW projects during her service in Benin. This year, as a third year extension volunteer in Peace Corps/Tonga, Phillips is organizing a Camp GLOW that will include nearly 250 girls from over four island groups.
"Camp GLOW is by far the most rewarding and inspiring project I have been a part of during my Peace Corps service, said Phillips. The transformation of the campers over the course of just one week is incredible to watch and their impact on the communities they return home to is equally amazing.
Dominican Republic
Last July, 62 young women attended Camp GLOW in the Dominican Republic organized by Peace Corps volunteers Mariel Beasley from Durham, N.C., Alison Driver from Seattle, Wash., and Regina Cruz from Clermont, Fla. The campers were encouraged to become community leaders and role models for other young women. For many of the campers, it was the first time that they had slept in a tent. On the second night, when the tents were washed out by torrential rain, the girls applied the leadership skills they learned and gained confidence in their ability to confront the challenging sleeping situation.
Ukraine
In August 2009, returned Peace Corps volunteer Cindy Divsalar from El Paso, Texas helped organize a Camp GLOW for 35 students in a village in northern Ukraine. The students came together to learn about leadership, human rights, gender equality, and environmental protection. They also enjoyed fun activities like a scavenger hunt, zumba fitness classes, and a girls night in themed slumber party with a movie.
Peace Corps volunteers helped raise my self-esteem, and taught how to protect it and how to believe in myself, said Olga Korshak, a Ukrainian student who participated in Camp GLOW. Camp GLOW changed my way of thinking. It helped me understand that each of us is unique and wonderful. After this camp I became more optimistic and self-confident, and I am very grateful to the Peace Corps volunteers for the great opportunity to participate in this camp.
As Peace Corps approaches its 50th anniversary, its service legacy continues to promote peace and friendship around the world with 7,671 volunteers serving in 76 host countries. Historically, nearly 200,000 Americans have served with the Peace Corps to promote a better understanding between Americans and the people of 139 host countries. Peace Corps Volunteers must be U.S. citizens and at least 18 years of age. Peace Corps service is a 27-month commitment.
# # #
---