FOR IMMEDIATE RELEASE:
Tuesday, July 12, 2011
Peace Corps Volunteers Launch New Education Program for Jordanian Youth
Volunteers Collaborate with Queen Ranias Education Reform Initiative to Implement Innovative Curriculum Nationwide
WASHINGTON, D.C., July 12, 2011 Peace Corps volunteers Shaylyn Romney Garrett and James Garrett of Boston, Mass., launched Brain Camp, a new education program in Jordan to help teach students critical-thinking and problem-solving skills. Over the course of seven weeks, 30 Peace Corps volunteers will hold 20 Brain Camps from
June 18 to July 28, 2011.
To help implement the program nationwide, the volunteers are also working with Madrasati, Her Majesty Queen Rania Al Abdullah of Jordans education reform initiative.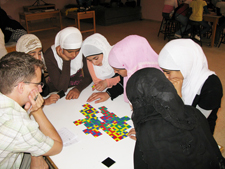 To our knowledge, this the first critical thinking curriculum developed specifically for Jordanian students, said Shaylyn, an education volunteer who arrived in Jordan in October 2009. The curriculum is culturally appropriate, relevant to village students\' lives, and presented in Arabic.
The new education program focuses on eight core critical thinking skills: memorization, organization, reasoning, strategy, decision making, opinion formation, perspective-taking, and creativity. The curriculum culminates in a problem-solving competition where students are given a real-world water-scarcity scenario and are challenged to build or design strategies to help solve the problem of water shortage. Brain Camp utilizes teaching methods to make the curriculum fun and compelling.

Shaylyn, a 2002 Harvard University graduate, and James, a 2006 Columbia University graduate, initially created Brain Camp as a six-day summer camp at the school in the community where they are serving together. The program was then adapted to cover the course of a semester at an after-school club at a local youth center. The initial programs were successful and the volunteers developed a comprehensive manual for other Peace Corps volunteers in Jordan to emulate the program as a camp or an after-school club.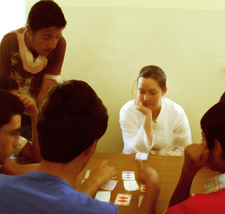 In late May, Shaylyn and James were honored to speak at Jordan\'s first
TEDx Dead Sea conference
on Education, Entrepreneurship, and Creativity. They presented the conference participants with their findings from the new academic program. TEDx programs are independently organized events started by
TED
, a non-profit devoted to ideas worth spreading.
About Peace Corps/Jordan:
More than 460 Peace Corps volunteers have served in Jordan since the program was established in 1997. Volunteers in this Middle Eastern nation work in the areas of education, and youth and community development. Currently, 38 volunteers are serving in Jordan. Volunteers are trained and work in colloquial Arabic.
About the Peace Corps:
President John F. Kennedy established the Peace Corps on March 1, 1961, by executive order. Throughout 2011, Peace Corps is commemorating 50 years of promoting peace and friendship around the world. Historically, more than 200,000 Americans have served with the Peace Corps to promote a better understanding between Americans and the people of 139 host countries. Today, 8,655 volunteers are working with local communities in 76 host countries. Peace Corps volunteers must be U.S. citizens and at least 18 years of age. Peace Corps service is a 27-month commitment. Visit www.peacecorps.gov for more information.
# # #
---