FOR IMMEDIATE RELEASE:
Tuesday, July 23, 2013
Peace Corps Volunteers Launch Development of Innovative Application that Links Rural Communities with Life-Saving Medical Information
Project honored at White House Open Government and Civic Hacking 'Champions of Change' event
WASHINGTON, D.C., July 23, 2013 – South Africa Peace Corps volunteer Aimee Edmondo of Hidden Valley Lake, Calif., is working with an international team of volunteers, led by returned Peace Corps volunteer Craig Michael Lie Njie, to create and implement a multi-platform application that links patients in rural communities with real-time information about the availability of medications at their local clinics. The innovative project was highlighted as part of an event today at the White House honoring open government and civic hacking "Champions of Change."
"I began to realize that stock-outs of essential medicines were a problem frequently expressed by caregivers, nurses, and patients themselves," Edmondo said. "In rural areas of South Africa where upwards of 50 percent of the population is unemployed and living in poverty, inadequate access to medicines often deters patients from initiating treatment and complying with treatment regimes."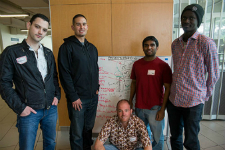 In developing countries around the world, many patients travel great distances to their local clinic only to discover that the medications they need are out of stock. The new application, known as MedLink, addresses these issues by allowing patients to use SMS or email from any location to check if the medication they need is available at their local clinic. MedLink also provides tools that enable community members to submit supply requests, and enable healthcare professionals to share details on the location and availability of supplies. Using a smartphone, the application helps clinicians track inventory in realtime.
The project began when Edmondo submitted her idea to the Peace Corps Innovation Challenge, a worldwide collaboration to develop technology-based solutions to local community problems in developing countries. The most compelling problems are then submitted to Random Hacks of Kindness, a global community of innovators building practical, open-source technology solutions that aim to make the world a better place.
The development of MedLink continued at a Random Hacks of Kindness event in The Gambia in June, and the initial version was completed in July. In The Gambia, volunteers are working with local companies and non-governmental organizations to support its deployment, and in South Africa, Edmondo is working with the Ministry of Health to begin implementation.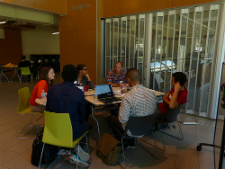 "The idea of engaging a global community of volunteers with different skills to work toward a common goal is both exciting and refreshing," said Edmondo, who is participating in Peace Corps' Master's International program at the Tulane University School of Public Health and Tropical Medicine. "I am encouraged that the MedLink team has recognized the global applicability of this project, and I am enthusiastic about the future of the application."
Lie Njie represented the project as one of 14 leaders and organizations honored at the White House event. He took on the name Lie Njie following his three years of service (2005-2008) as a Peace Corps Volunteer in The Gambia, West Africa, where he designed, deployed, and taught the first two years of the country's first Bachelor's in Computer Science program at the University of The Gambia. The Champions of Change program was created as an opportunity for the White house to feature groups of Americans – individuals, businesses and organizations – who are doing extraordinary things to empower and inspire members of their communities.
To learn more about MedLink, visit: http://www.KismetWorldWide.com/MedLink
About the Peace Corps: Since President John F. Kennedy established the Peace Corps by executive order on March 1, 1961, more than 210,000 Americans have served in 139 host countries. Today, 8,073 volunteers are working with local communities in 76 host countries in agriculture, community economic development, education, environment, health and youth in development. Peace Corps volunteers must be U.S. citizens and at least 18 years of age. Peace Corps service is a 27-month commitment and the agency's mission is to promote world peace and friendship and a better understanding between Americans and people of other countries. Visit www.peacecorps.gov for more information.
# # #
---