FOR IMMEDIATE RELEASE:
Monday, November 3, 2014
Peace Corps Volunteers Inspire Ethiopian Youth to Think Creatively to Tackle Environmental Challenges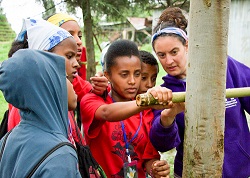 WASHINGTON, D.C., Nov. 3, 2014 – Peace Corps volunteers Lora Koenig of Lubbock, Texas, and Amanda Spiegelberg of Santa Ana, California, are engaging Ethiopian youth to develop creative and innovative solutions to Ethiopia's most pressing environmental issues by organizing the region's first Growing and Renewing our World (GROW) camp. In collaboration with 19 fellow Peace Corps volunteers and nine Ethiopian counterparts, Koenig and Spiegelberg hosted the week-long camp for more than 50 local children.
"Deforestation, erosion and food security are just some of the challenges that the next generation will be grappling with," said Spiegelberg, a graduate of the University of Notre Dame who has been living and working in Ethiopia since 2012. "Holding events like Camp GROW is a way to introduce children to some of these issues and get them thinking about new, creative solutions."
The camp included sessions on nutrition and building compostable toilets, and instilled a shared sense of purpose among campers by teaching them how their environment impacts their health and wellbeing. At the end of the camp, students shared what they learned with 200 community members at a local fair.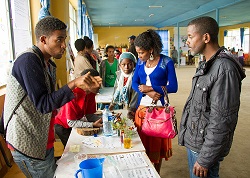 "We had young girls and boys teaching older, respected members of the community what it means to 'double dig' a garden plot, passing out indigenous tree seeds to encourage tree planting, and sharing different healthy snack options," said Koenig, a graduate of University of Texas-Austin who has also been living and working in Ethiopia since 2012. "It was really inspiring to see these campers sharing their new knowledge, ready to take it back to their individual communities."
Camp GROW was funded by Feed the Future, a White House initiative that aims to reduce hunger, poverty and malnutrition around the world. The Peace Corps is one of 11 federal departments and agencies contributing to Feed the Future, and more than 1,200 Peace Corps volunteers have helped to bring important food security messaging and practices to the grassroots level.
"Our hope is that regardless of the professions these children choose, the experiences they had at camp will positively impact their future," Spiegelberg said. "Whether they become environmental activists, stay-at-home parents, or CEOs, the bigger lessons they learned at camp was always our first priority. The ideas of empowerment and leadership, environmental stewardship, and leading healthy lives are lessons that everyone should discover, whether they grow up in California, or the Amhara region."
About Peace Corps/Ethiopia: There are currently 201 volunteers in Ethiopia working in the areas of education, health, agriculture and environment. During their service in Ethiopia, volunteers learn to speak the local languages, including: Amharic, Oromifa and Tigrinya. More than 3,355 Peace Corps volunteers have served in Ethiopia since the program was established in 1962.
About the Peace Corps: As the preeminent international service organization of the United States, the Peace Corps sends Americans abroad to tackle the most pressing needs of people around the world. Peace Corps volunteers work at the grassroots level with local governments, schools, communities, small businesses and entrepreneurs to develop sustainable solutions that address challenges in education, health, economic development, agriculture, environment and youth development. When they return home, volunteers bring their knowledge and experiences – and a global outlook – back to the United States that enriches the lives of those around them. President John F. Kennedy established the Peace Corps in 1961 to foster a better understanding among Americans and people of other countries. Since then, more than 215,000 Americans of all ages have served in 139 countries worldwide. Visit www.peacecorps.gov to learn more.
# # #
---