FOR IMMEDIATE RELEASE:
Wednesday, June 6, 2012
Peace Corps Volunteers Initiate Mobile Computer Training in Jordan
WASHINGTON, D.C., June 6, 2012 – Peace Corps volunteers Darius Bittle-Dockery of New Haven, Conn., and Jeanine Chiu of Oak Park, Calif., have developed a mobile internet station to train people in remote communities in Jordan basic computer and Internet skills.

More than 100 students and stay-at-home mothers have received two weeks of training each in basic computer navigation skills and word processing since the "mobile knowledge station" project was created a year ago.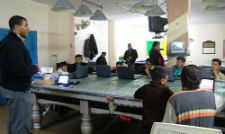 "With more than 50 percent of the population of Jordan residing in the capital of Amman, there is a significant disparity between the connectedness throughout the different governorates," said Chiu, who has been working as an English teaching volunteer since October 2010.

The project is similar to traveling libraries, providing programming with a set of mobile equipment that moves according to the expressed need and on a set schedule between villages. This flexibility enables people in remote villages to access to training at a fraction of the cost.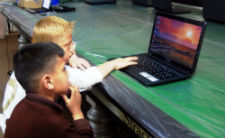 "The mobile knowledge station is simple, yet versatile and can provide whatever programming is needed at any available time. The flexibility and cost makes it ideal for any center or organization that wants or needs training in a particular computer program or skill," said Bittle-Dockery, who has been living and working as a youth development volunteer in Jordan since October 2010.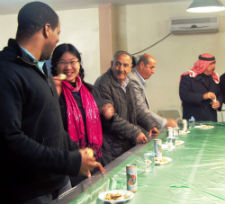 About Peace Corps/Jordan: More than 500 Peace Corps volunteers have served in Jordan since the program was established in 1997. Currently, 60 volunteers serve in Jordan. Volunteers work in the areas of education and youth and community development. Volunteers are trained and work in colloquial Arabic.

About the Peace Corps: Since President John F. Kennedy established the Peace Corps by executive order on March 1, 1961, more than 200,000 Americans have served in 139 host countries. Today, 9,095 volunteers are working with local communities in 75 host countries. Peace Corps volunteers must be U.S. citizens and at least 18 years of age. Peace Corps service is a 27-month commitment and the agency's mission is to promote world peace and friendship and a better understanding between Americans and people of other countries. Visit www.peacecorps.gov for more information.
# # #
---