FOR IMMEDIATE RELEASE:
Monday, April 25, 2011
Peace Corps Volunteers in the Philippines Plant 12,000 Mangroves; Organize Coastal Cleanup with Youth
WASHINGTON, D.C., April 25, 2011 On
April 16
, Peace Corps volunteers in the Philippines planted 12,000 mangrove trees and organized a coastal cleanup with local youth as part of two Global Youth Service Day (April 15-17) activities. More than five percent of Peace Corps volunteers work primarily in youth development and 13 percent work primarily on environmental projects.
Mangrove Planting in Cebu, Philippines
Peace Corps volunteers Leah Eggers of Brooklyn Park, Minn., and Claire Pelley of Chico, Calif., joined local youth, community members, and other Peace Corps volunteers to plant 12,000 mangrove seedlings and collect trash on the beach in Cebu province. Mangrove trees help prevent erosion and mitigate tropical storm damage. They will also contribute to the increase of the local fish population, which greatly benefits the more than 200 fisherman.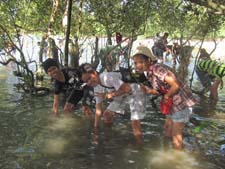 During the event, volunteers Eggers and Pelley taught an interactive presentation on protecting marine life, and led activities to teach students about the environment.
This project is a fantastic way to encourage service among Filipino youth while teaching about the environment, said Eggers, a youth development volunteer who has served in the Philippines since August 2010.
Coastal Cleanup in Leyte, Philippines
Peace Corps volunteer Sabrina Roberts of Lancaster, Calif., organized a youth coastal cleanup project to collect trash along the shore of local rivers with high school students from all 15 school districts in Silago, Southern Leyte.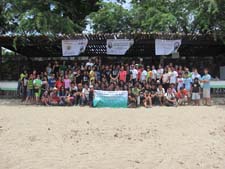 My counterpart and I traveled to all of the high schools in Silago to promote the cleanup, said Roberts, an environment volunteer who has served in the Philippines since August 2010. The students were all very excited to participate!
Youth Development
volunteers work with communities and schools to mobilize young people around community improvement projects, and to help build critical civic engagement, life and leadership skills.
Environment
volunteers help promote conservation and protection of natural resources, including coastal areas.
In recognition of Earth Day on April 22, 2011, Peace Corps will highlight several environmentally sustainable volunteer projects throughout the month. Peace Corps volunteers work at the grassroots level to protect and preserve the environment through forest conservation, recycling projects, environmental youth clubs, park management, and many other activities. To learn more about Peace Corps and Earth Day, visit the
Peace Corps on You-Tube
.
About Peace Corps in the Philippines
: More than 8,520 Peace Corps volunteers have served in the Philippines since the program was established in 1961. Volunteers in this Southeast Asian nation work in the areas of education, youth and family development, and coastal resource management. Currently, 259 volunteers are serving in the Philippines. Volunteers are trained and work in the following languages: Aklanon, Bikol-Albay, Bikol-Naga, Cebuano, Hiligaynon, Ibaloi, Ilokano, Kankana-ey Kinaray-a, Pangasinan, Tagalog, and Waray.
About the Peace Corps:
President John F. Kennedy established the Peace Corps on March 1, 1961, by executive order. Throughout 2011, Peace Corps is commemorating 50 years of promoting peace and friendship around the world. Historically, more than 200,000 Americans have served with the Peace Corps to promote a better understanding between Americans and the people of 139 host countries. Today, 8,655 volunteers are working with local communities in 77 host countries. Peace Corps volunteers must be U.S. citizens and at least 18 years of age. Peace Corps service is a 27-month commitment. Visit www.peacecorps.gov for more information.
# # #
---