FOR IMMEDIATE RELEASE:
Tuesday, September 3, 2013
Peace Corps Volunteers in the Kyrgyz Republic Use Music to Break Down Cultural Barriers
WASHINGTON, D.C., September 4, 2013 - Peace Corps volunteers Maryn Lewallen of Littleton, Colo., and Luke Willson of Chicago, Ill., are using music to break down cultural barriers and connect with their local communities in the Kyrgyz Republic. Lewallen, a health volunteer, and Willson, an education volunteer, formed a band to express their interest in the local culture.
"People here love music, and performing Kyrgyz songs has been invaluable for breaking down cultural barriers and creating a positive atmosphere in my community," Lewallen said. "I've had a lot of great experiences as a volunteer in Kyrgyzstan, but one of the best parts has been the chance to share culture and experiences with my fellow volunteers and the people of our communities through music."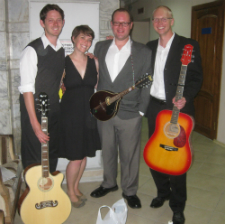 Peace Corps volunteers Max Martini from Marion, Ill., Andrew MacNaughton of Redding, Calif., and Luther Flagstad from Roseville, Minn., are also in the band, which has performed on Kyrgyz national television, at local opera houses, and at the U.S. Embassy's 20th anniversary gala in Bishkek, the country's capital city. Volunteers in the band play instruments that include the guitar, mandolin and piano.
"When people hear that we sing Kyrgyz folk and pop songs, something that very few foreigners here learn to do, they are even more excited and impressed that we have taken the time to do this," Lewallen said. "These interactions have definitely shown me the power of music as a connective force across linguistic and cultural barriers."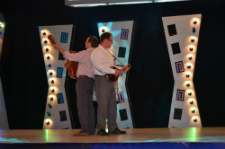 "Learning the local music and being part of a group of other musicians has been one of the things I treasure most about my time here," Willson said. "I'm honored to have been asked to perform on TV here and proud that we are able to represent our country through music."
About Peace Corps/Kyrgyz Republic: More than 980 Peace Corps volunteers have served in the Kyrgyz Republic since the program was established in 1993. Currently, 80 volunteers serve in the Kyrgyz Republic. Volunteers work in the areas of education, community development, business development and health. Volunteers are trained and work in Kyrgyz and Russian.
About the Peace Corps: Since President John F. Kennedy established the Peace Corps by executive order on March 1, 1961, more than 210,000 Americans have served in 139 host countries. Today, 8,073 volunteers are working with local communities in 76 host countries in agriculture, community economic development, education, environment, health and youth in development. Peace Corps volunteers must be U.S. citizens and at least 18 years of age. Peace Corps service is a 27-month commitment and the agency's mission is to promote world peace and friendship and a better understanding between Americans and people of other countries. Visit www.peacecorps.gov for more information.
# # #
---