FOR IMMEDIATE RELEASE:
Tuesday, February 28, 2012
Peace Corps Volunteers in Tanzania Learn Soccer-Based HIV-Prevention Training
WASHINGTON, D.C., February 28, 2012 Ten Peace Corps volunteers and 20 local Tanzanians recently organized a soccer and HIV-prevention training in collaboration with Grassroot Soccer, an organization that uses soccer to teach HIV/AIDS prevention. The training, which ran from Jan. 30 to Feb, 3, 2012, was the first between Peace Corps volunteers in Tanzania and Grassroot Soccer since the agency signed a
memorandum of understanding
with the organization in November 2011.
During the five-day seminar, each Peace Corps volunteer and two community members teamed up to learn Grassroot Soccers Zinduka curriculum, which includes games and other soccer activities. Zinduka, which means rise up in Swahili, is designed to educate about HIV transmission and teach life skills to youth. All sessions were conducted in both in Swahili and English to ensure active participation and understanding.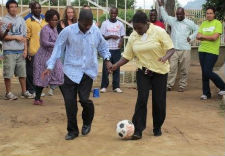 Many activities served to open discussion among the participants on important issues regarding HIV/AIDS epidemic trends facing Tanzania, said Peace Corps environment volunteer Jessica Byassee of Clinton, Ky. Having shared this experience with teachers from my village, I feel better equipped to work with my students and be more effective.
Volunteers will soon facilitate the trainings in their local communities, with a goal to conduct at least three trainings over the next year. Facilitators from Grassroot Soccer, Grassroot Soccers Tanzanian partner, Family Health International, and Iringa Development of Youth, Disabled and Children Care (IDYDC) helped administer the training.

In November 2011, the Peace Corps and Grassroot Soccer (GRS) announced a partnership to educate, inspire, and mobilize young people around the world to stop the spread of HIV/AIDS.
Peace Corps volunteers worldwide teach classes in HIV prevention, educate at-risk populations, and develop community support for children orphaned by AIDS. Other HIV/AIDS awareness projects include encouraging communities to adopt healthy behaviors, training peer educators, and supporting health clinics. Today, 22 percent of Peace Corps volunteers work in the health and HIV/AIDS sector. Peace Corps volunteers have collaborated with Grassroot Soccer in host-countries, including the Dominican Republic, South Africa, Tanzania, and Zambia.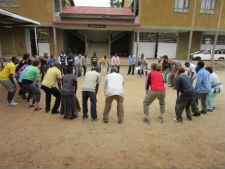 About Grassroot Soccer:
GRS is a non-profit organization founded in 2002 that uses the power of soccer to educate, inspire, and empower communities to stop the spread of HIV. Grassroot Soccer envisions a world mobilized through soccer to create an AIDS-free generation. GRS has programs in 10 African countries with flagship sites in South Africa, Zambia, and Zimbabwe. Founded by four professional soccer players, Grassroot Soccer is mobilizing the most vulnerable population of youth ages 12 19 to break the cycle of AIDS by engaging local coaches who equip young people with the knowledge, skills and support they need to avoid HIV. For more information visit: www.grassrootsoccer.org.
About Peace Corps/Tanzania:
More than 2,320 Peace Corps volunteers have served in Tanzania since the program was established in 1961. Currently, 148 volunteers serve in Tanzania. Volunteers work in the areas of education, environment, agriculture and health. Volunteers are trained and work in the Kiswahili language.
About the Peace Corps:
Since President John F. Kennedy established the Peace Corps by executive order on March 1, 1961, more than 200,000 Americans have served in 139 host countries. Today, 9,095 volunteers are working with local communities in 75 host countries. Peace Corps volunteers must be U.S. citizens and at least 18 years of age. Peace Corps service is a 27-month commitment and the agencys mission is to promote world peace and friendship and a better understanding between Americans and people of other countries. Visit www.peacecorps.gov for more information.
# # #
---