FOR IMMEDIATE RELEASE:
Monday, May 2, 2011
Peace Corps Volunteers in Mozambique Teach Leadership Skills to Young Women
WASHINGTON, D.C., May 2, 2011 Peace Corps/Mozambique volunteers Scooter Anata Walsh of Urbana, Ill., and Ann Davis of Glenview, Ill., held an interactive forum with prominent women speakers, skits, songs and poetry for more than 50 women and girls in honor of Mozambican Women\'s Day on April 7. The young women who participated in the forum belong to Raparigas em Desenvolvimento, Educao e Sade (REDES) or Girls in Development, Education, and Health, groups that meet several times a week to exchange income-generating skills, participate in community service projects, take field trips or listen to guest speakers.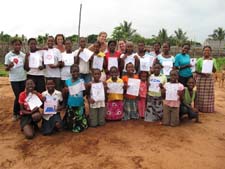 So far in intergroup exchanges, REDES girls have visited Gorongosa National Park, painted murals, listened to female doctors, nurses, policewomen, and prosecutors speak, and built a playground, said Walsh, a Peace Corps chemistry volunteer. It can be difficult to measure the success of a project like REDES because so many of the results are intangible, but when you see the look on their faces after listening to a speech that they feel relates to their future, you know it is making a difference.
The REDES project was originally organized by Peace Corps volunteers in 2005, and now includes more than 40 groups of young women aged 13 to 22. Typically, each group consists of at least 10 participants.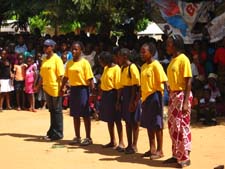 "We now have eight groups that are run completely without a Peace Corps volunteer, which is the truest sign of success and sustainability," said Walsh, a graduate of Bowdoin College. REDES will hold three regional conferences in August that will include representatives from every REDES group throughout the country."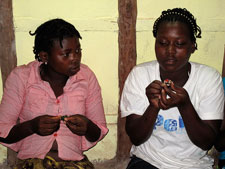 About Peace Corps/Mozambique:
More than 630 Peace Corps volunteers have served in Mozambique since the program was established in 1998. Volunteers in this Southern African nation work in the areas of education, health, and HIV/AIDS awareness. Many volunteers working on HIV/AIDS prevention and care receive support from the U.S. Presidents Emergency Plan for AIDS Relief (PEPFAR) program. Currently, 203 volunteers are serving in Mozambique. Volunteers receive Portuguese language training and can work individually in the following languages: Ajaua, Bitonga, Chope, Changane, Elomwe, Emacua,Hiyau , Nhungwe, Nianja, Portuguese, Swahili, Xitswa, Xindau,Xisena, Xichona, Ximanica, Xichuabo, Ximaconde,and Xironga.
About the Peace Corps:
President John F. Kennedy established the Peace Corps on March 1, 1961, by executive order. Throughout 2011, Peace Corps is commemorating 50 years of promoting peace and friendship around the world. Historically, more than 200,000 Americans have served with the Peace Corps to promote a better understanding between Americans and the people of 139 host countries. Today, 8,655 volunteers are working with local communities in 77 host countries. Peace Corps volunteers must be U.S. citizens and at least 18 years of age. Peace Corps service is a 27-month commitment. Visit www.peacecorps.gov for more information.
# # #
---