FOR IMMEDIATE RELEASE:
Monday, April 18, 2011
Peace Corps Volunteers in Azerbaijan Organize Community Environmental Service Project for Global Youth Service Day
Washington, D.C., April 18, 2011 Peace Corps volunteers Amy King, of Merrimack, N.H., and Kate Knisley, of Columbus, Ohio, organized a community environmental service project in Azerbaijan on
April 17, 2011
for Global Youth Service Day (April 15-17). Seventy students collected more than 70 lbs. of trash around a local school and built 20 birdhouses to foster biodiversity and help with pest control. Students also planted flowers and created re-usable grocery bags to encourage recycling and conservation.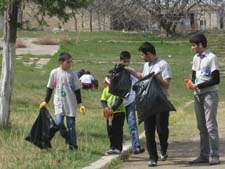 Involving youth in a project that serves the community and raises environmental awareness is very unique because they are unfamiliar concepts to many people in Azerbaijan, said King, a graduate of Brandeis University. This project is important to me because I care about my community.
Throughout the service project, the students were filmed and asked questions such as, What is service and why is it important? A completed video will be edited with English subtitles and shared with students at Kings high school in Merrimack, New Hampshire. In turn, high school seniors in Merrimack will film their annual service project, which is set to take place on May 17, and share with the Azerbaijani students. American and Azerbaijani students will watch each others video and have an online discussion about their experience.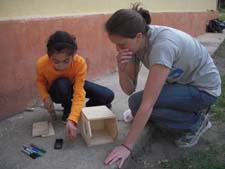 The service project was organized with The Goranboy Child and Family Support Center and had many participants, including students from four local schools, disabled teens from The Goranboy Child and Family Support Center, youth from a local orphanage, community members, and 12 Peace Corps volunteers.
Working to improve the community through service projects greatly benefit the people in Goranboy and strengthen kids connection to their hometown, said Knisley, a graduate of The Ohio State University.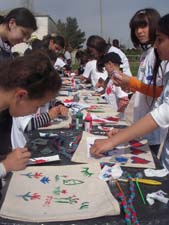 In recognition of Earth Day on April 22, 2011, Peace Corps will highlight several environmentally sustainable volunteer projects throughout the month. Peace Corps volunteers work at the grassroots level to protect and preserve the environment through forest conservation, recycling projects, environmental youth clubs, park management, and many other activities.
About Peace Corps/Azerbaijan:
More than 379 Peace Corps volunteers have served in Azerbaijan since the program was established in 2003. Volunteers in this South Caucasian nation work in the areas of education, youth and community development, and business development. Currently, 168 volunteers serve in Azerbaijan. Volunteers are trained and work in Azerbaijani.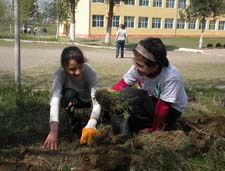 About the Peace Corps:
President John F. Kennedy established the Peace Corps on March 1, 1961, by executive order. Throughout 2011, Peace Corps is commemorating 50 years of promoting peace and friendship around the world. Historically, more than 200,000 Americans have served with the Peace Corps to promote a better understanding between Americans and the people of 139 host countries. Today, 8,655 volunteers are working with local communities in 77 host countries. Peace Corps volunteers must be U.S. citizens and at least 18 years of age. Peace Corps service is a 27-month commitment. Visit www.peacecorps.gov for more information.
# # #
---