FOR IMMEDIATE RELEASE:
Friday, November 4, 2011
Peace Corps Volunteers in Armenia Use Text Messaging for HIV/AIDS Education and Prevention
Washington, D.C., November 4, 2011 Peace Corps volunteers Lisa Conder of Englewood, Fla., and Ashley Ottewell of Belleville, Mich., spearheaded the launch of the SMS Information Hotline, a nationwide program in Armenia that promotes HIV/AIDS awareness and prevention through mobile-phone-based SMS text messaging.
The SMS Information Hotline provides potentially life-saving information that users may not be able to get otherwise, said Conder, who had the idea to start the Hotline in 2009 after learning about a similar Peace Corps project in Namibia. In Armenia, HIV/AIDS is sometimes referred to as a hidden epidemic. There is a general low awareness about HIV/AIDS and a lack of prevention programs and resources. People often avoid seeking testing, counseling, and treatment because of the stigma and social taboos associated with it.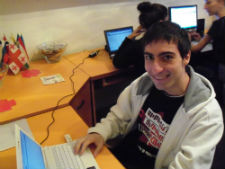 Starting Oct. 21, 2011, community members have been able to send anonymous HIV/AIDS related questions through text messaging. They receive answers within 24 hours from Armenian Red Cross Society volunteers trained by the Armenia Ministry of Healths National Center for AIDS Prevention. The Hotline is a resource accessible to the general public, including those in rural areas who might have limited access to accurate HIV/AIDS information.
Having a text messaging HIV/AIDS information hotline is a perfect way to make important information accessible and empower people to make healthy lifestyle choices, said Ottewell.
The creation, implementation, and a national information campaign on the SMS Information Hotline is funded through the U.S. Presidents Emergency Plan for AIDS Relief (PEPFAR) Volunteer Activities Support and Training (VAST) grant available to Peace Corps volunteers working in collaboration with local partners.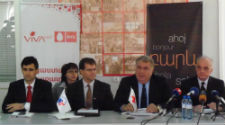 The SMS Information Hotline is implemented in cooperation with the Armenian Red Cross Society, Armenian mobile operators, the Ministry of Health of the Republic of Armenia, and Peace Corps staff and volunteers, including recently returned Peace Corps volunteers Nicholas Hutchings of Baltimore, Md., and Brent Hines of Belton, Texas.
About Peace Corps/Armenia:
Nearly 740 Peace Corps volunteers have served in Armenia since the program was established in 1992. Volunteers work in the areas of community and business development, and English education. Currently, 96 volunteers are serving in Armenia. Volunteers are trained and work in Armenian.
About the Peace Corps:
President John F. Kennedy established the Peace Corps on March 1, 1961, by executive order. Throughout 2011, Peace Corps is commemorating 50 years of promoting peace and friendship around the world. Historically, more than 200,000 Americans have served with the Peace Corps to promote a better understanding between Americans and the people of 139 host countries. Today, 9,095 volunteers are working with local communities in 75 host countries. Peace Corps volunteers must be U.S. citizens and at least 18 years of age. Peace Corps service is a 27-month commitment. Visit www.peacecorps.gov for more information.
# # #
---