FOR IMMEDIATE RELEASE:
Tuesday, October 2, 2012
Peace Corps Volunteers in Africa Convene to Hone Strategy for Combating Malaria
WASHINGTON, D.C., October 2, 2012 –Peace Corps volunteers from 11 African countries gathered in Thiès, Senegal, for 10 days in late September to share the most effective strategies and tactics for combating malaria across the continent. Via Skype, volunteers were able to engage with some of the world's foremost authorities on malaria prevention and determine methods to bring the latest research back to their communities. Throughout the 10-day training, experts led intensive sessions on topics such as malaria science, HIV/AIDs and malaria co-infection, bed net distributions, international malaria policy and control and advocacy.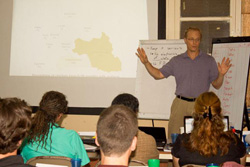 "Having the opportunity to learn from and talk with some of the top minds in the field of malaria prevention all at once is a rare and special experience for Peace Corps' Africa health volunteers," said Stomping Out Malaria in Africa Project Director Chris Hedrick. "Coming together for this innovative training prepares volunteers to go back into the field and share what they've learned with fellow Peace Corps Africa volunteers, all of whom are making a significant contribution to the international effort to eliminate malaria."
Rear Admiral Tim Ziemer, the Global U.S. Malaria Coordinator leading the President's Malaria Initiative (PMI), presented via Skype on advances in prevention and stressed the importance of field work in malaria elimination, recognizing Peace Corps as a key member of the PMI team and acknowledging the work volunteers do at a grassroots level. Dr. Dennis E. Kyle of the University of South Florida presented on the most current research developments in malaria drugs and shed light on malaria-related topics such as the life cycle of mosquitoes in cold, dry climates.
Associate Professor at Johns Hopkins Bloomberg School of Public Health Dr. David Sullivan M.D. and Stanford Professor Dr. Pascaline Dupas led sessions on malaria diagnosis, treatment and research regarding the benefits and costs of distributing free mosquito bed nets. In addition, Peace Corps volunteers and staff shared about the malaria prevalence in their respective countries and current methods of intervention.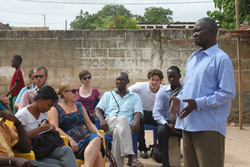 The training concluded with a video conference led by Peace Corps Acting Director Carrie Hessler-Radelet, who described how her encounter with malaria while serving overseas helped her choose a career in public health. All participant of the training will return to their respective countries and act as liaisons with partners and local organizations to share best practices and build a network of malaria prevention professionals.
The noteworthy experts joined more than 25 Peace Corps volunteers during the fifth Stomp Out Malaria Boot Camp. Launched in June of 2011, the Boot Camp training series provides Peace Corps volunteers and staff members from across Africa with in-depth knowledge and best-practices on malaria prevention and treatment.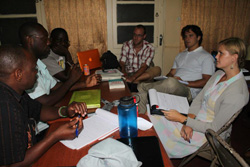 Peace Corps health volunteers help communities meet basic public health needs through education and awareness. Heath volunteers provide access to safe drinking water, distribute bed nets for malaria prevention, educate communities about HIV/AIDS, teach sanitation measures and more. Today, 22 percent of Peace Corps volunteers work in the health/HIV sector.
About the Peace Corps: Since President John F. Kennedy established the Peace Corps by executive order on March 1, 1961, more than 200,000 Americans have served in 139 host countries. Today, 9,095 volunteers are working with local communities in 75 host countries. Peace Corps volunteers must be U.S. citizens and at least 18 years of age. Peace Corps service is a 27-month commitment and the agency's mission is to promote world peace and friendship and a better understanding between Americans and people of other countries. Visit www.peacecorps.gov for more information.
# # #
---