FOR IMMEDIATE RELEASE:
Wednesday, October 15, 2014
Peace Corps Volunteers Improve Hygiene and Prevent Disease by Promoting Handwashing
WASHINGTON, D.C., Oct. 15, 2014 – On Global Handwashing Day, celebrated annually on Oct. 15, the Peace Corps recognizes volunteers who educate and promote handwashing in the communities they serve. Simply using soap and water to wash your hands improves hygiene and prevents the spread of disease, and is within the means of households globally.
To mark Global Handwashing Day in their local communities, Peace Corps volunteers are holding awareness events, teaching students to paint instructional murals, and building inexpensive hand washing stations with plastic jugs, sticks, string and soap.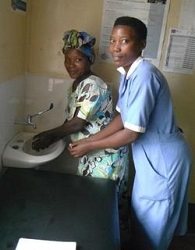 Global Handwashing Day was initiated by the Public Private Partnership for Handwashing during World Water Week in 2008. This year's Global Handwashing Day theme, "Choose Handwashing, Choose Health," encourages communities to make healthy choices through long-term and culturally adapted behavior change approaches.
Below find an example of how a returned Peace Corps volunteer who served in Uganda improved hygiene in her community through handwashing.
While living in Uganda, recently returned Peace Corps volunteer Debra Clairville of Burbank, California, installed new handwashing stations, complete with indoor plumbing, at a local health center and led educational sessions on handwashing techniques with local staff members to improve hygiene in her community. Clairville came up with the idea for the project after conducting a handwashing survey at a nearby health center.
"The survey revealed that health center staff were washing their hands once for every four patients they saw," said Clairville, a graduate of Washington State University and Whitworth University who lived in Uganda from 2012-2014.
In light of this stunning statistic, Clairville worked with health center staff to apply for a grant to support improvement in the center's infection control practices. The grant allowed them to build a 60,000-liter rainwater collection tank and install piping and new handwashing basins in the health center's two wards, giving patients and staff easy access to more handwashing stations and indoor plumbing for the first time.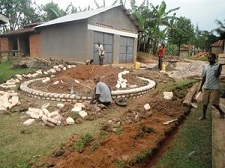 Once the construction phase was completed, Clairville and her colleagues began teaching patients and attendants how to properly use the new system and the importance of hand hygiene through educational sessions. They donated their old handwashing materials to neighboring primary and secondary schools, where health center staff held educational handwashing sessions for students. To complement the project, Clairville and her colleagues made and sold soap to generate income for the health center.
"By the end of the project, the health center staff members were washing their hands twice for every patient they saw and incidences of diarrheal diseases in the health center dropped by more than 50 percent."
About Peace Corps/Uganda: There are currently 137 volunteers in Uganda working in the areas of health, education and community economic development. During their service in Uganda, volunteers learn to speak the local languages, including: Ateso, Dhopadhola, Luganda, Lugwere, Lumasaaba, Lusoga, Runyakore, Runyole, Runyoro-Rutoro and Uhopadhola. More than 1,305 Peace Corps volunteers have served in Uganda since the program was established in 1964.
About the Peace Corps: As the preeminent international service organization of the United States, the Peace Corps sends Americans abroad to tackle the most pressing needs of people around the world. Peace Corps volunteers work at the grassroots level with local governments, schools, communities, small businesses and entrepreneurs to develop sustainable solutions that address challenges in education, health, economic development, agriculture, environment and youth development. When they return home, volunteers bring their knowledge and experiences – and a global outlook – back to the United States that enriches the lives of those around them. President John F. Kennedy established the Peace Corps in 1961 to foster a better understanding among Americans and people of other countries. Since then, more than 215,000 Americans of all ages have served in 139 countries worldwide. Visit www.peacecorps.gov to learn more.
# # #
---