FOR IMMEDIATE RELEASE:
Tuesday, August 19, 2014
Peace Corps Volunteers Host Nepal's First Camp GLOW
WASHINGTON, D.C., August 19, 2014 – Nine Peace Corps volunteers in Nepal recently hosted the country's first Camp GLOW – Girls Leading our World – to teach 36 local high school girls about gender roles, life skills, health and leadership.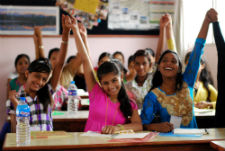 "The camp activities were created specifically to inspire creative ideas and critical thinking," said Peace Corps volunteer Alexandra Clayton of Winthrop, Wash., who has been living in Nepal since 2012. "At the end of the camp, the girls returned to their villages equipped with the knowledge and skills to lead youth groups and inform their peers about current and relevant issues affecting women in Nepal."
Camp GLOW was first established in 1995 by Peace Corps volunteers in Romania to encourage self-confidence among women and girls by creating a safe and supportive environment for cultural exchange, individuality, creativity, leadership development and fun. Since then, volunteers in more than 60 Peace Corps countries have established GLOW camps.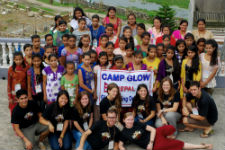 The volunteers worked for a month to prepare the five-day camp, which was held in collaboration with a local nongovernmental organization and included volunteer-led trainings and discussions. The camp's success has inspired volunteers in other regions of the country to plan similar activities in their local communities.
"Working with people of different backgrounds has shown me a real example of unity in diversity," said one camp participant from western Nepal. "I feel very fortunate to be a part of something that is so inspiring and positive."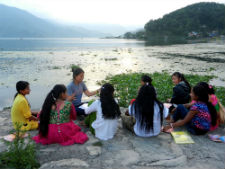 Peace Corps volunteers Lisa Bauer of San Rafael, Calif.; Amanda Bensel of Placerville, California; Chad Chalker of Midland, Texas; Marvin Crespin-Gamez of Los Angeles; Voranan Mongkolpumirat of San Antonio, Texas; Tia Sandoval of Platte City, Missouri; Andrea Smith of Denver; and Ethan Vimont of Pine, Colorado, all helped to facilitate the camp. The Peace Corps Partnership Program, which supports Peace Corps volunteer community projects worldwide, helped to fund the project.
About the Peace Corps/Nepal: There are currently 43 volunteers in Nepal working in agriculture. During their service in Nepal, volunteers learn to speak the local language of Nepalese. More than 3,675 Peace Corps volunteers have served in Nepal since the program was established in 1962.
About the Peace Corps: As the preeminent international service organization of the United States, the Peace Corps sends Americans abroad to tackle the most pressing needs of people around the world. Peace Corps volunteers work at the grassroots level with local governments, schools, communities, small businesses and entrepreneurs to develop sustainable solutions that address challenges in education, health, economic development, agriculture, environment and youth development. When they return home, volunteers bring their knowledge and experiences—and a global outlook—back to the United States that enriches the lives of those around them. President John F. Kennedy established the Peace Corps in 1961 to foster a better understanding among Americans and people of other countries. Since then, more than 215,000 Americans of all ages have served in 139 countries worldwide. Visit www.peacecorps.gov to learn more.
# # #
---