FOR IMMEDIATE RELEASE:
Monday, August 6, 2012
Peace Corps Volunteers Host Creative Leadership Camp in Kyrgyzstan
WASHINGTON, D.C., August 7, 2012 – Peace Corps volunteer Meghan O'Connell of Framingham, Mass., recently helped run a six-day creative leadership camp for 80 students aged 14 to 22 in Kyrgyzstan. During the camp, participants built upon their English language skills by attending interactive sessions and socializing with peers and local English teachers. O'Connell and volunteer Steve Root of Ormond Beach, Fla., spoke about the camp and their Peace Corps service on a popular hour-long Kyrgyz television morning show on July 26, 2012.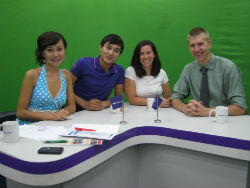 "The camp was a huge success," said O'Connell, a graduate of New York University who has been working in Kyrgyzstan since March 2011. "The news station that broadcasted the interview was so interested in the camp that reporters are coming to do a story on it soon."
Each camp session was conducted in English and focused on topics including project design, management and leadership, sharing cultures, theatre, art and music.

"English really has become 'the global language,' so the English program in Kyrgyzstan is extremely important," said Root, a graduate of the University of Miami who has been working in Kyrgyzstan since March 2011. "Learning English can enable these young people to build their resumes to get better jobs, help them interact with people from all over the world and generally expand their options for the future. The hospitality of the local people is unlike anything I have ever experienced, and I am honored to be helping build educational capacity in such a great nation."
About Peace Corps/Kyrgyzstan: More than 940 Peace Corps volunteers have served in Kyrgyzstan since the program was established in 1993. Currently, 89 volunteers serve in Kyrgyzstan. Volunteers work in the areas of education, community development, business development and health. Volunteers are trained and work in Kyrgyz and Russian.
About the Peace Corps: Since President John F. Kennedy established the Peace Corps by executive order on March 1, 1961, more than 200,000 Americans have served in 139 host countries. Today, 9,095 volunteers are working with local communities in 75 host countries. Peace Corps volunteers must be U.S. citizens and at least 18 years of age. Peace Corps service is a 27-month commitment and the agency's mission is to promote world peace and friendship and a better understanding between Americans and people of other countries. Visit www.peacecorps.gov for more information.
# # #
---