FOR IMMEDIATE RELEASE:
Friday, April 4, 2014
Peace Corps Volunteers Help Local Silk-Weaving Artisans Reach International Markets
Project bringing financial independence and stability to women in Madagascar
WASHINGTON, D.C., April 4, 2014 – Peace Corps volunteer Amy Wallace of Columbia, Mo., and returned Peace Corps volunteer Natalie Mundy of Roanoke, Va., are helping silk weavers in Madagascar reach international markets to expand their business and provide steady income for their families.
Silk weaving in Madagascar is a tradition for Malagasy women, and in collaboration with Peace Corps volunteers focused on business and community development, they have established silk-weaving cooperatives that are generating income growth throughout the region. With their success, the members of the cooperative have been able to pay their children's school fees, buy school supplies, address their family's health needs, build or repair their homes, and reinvest in their silk production.
"As a community economic development volunteer, I have been working with Federation Sahalandy trying to develop their independence as a business," said Wallace, a graduate of the University of Arkansas who has been living and working in Madagascar since February 2012. "Much of my role has been helping the group understand and adjust to the growth and new opportunities it has found in the United States."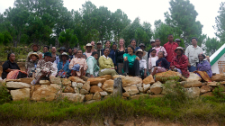 The annual Santa Fe International Folk Art Market, one of the largest folk art markets in the world, has given the cooperative a chance to sell its hand-woven scarves, shawls and wallets and connect with interested buyers, designers and consultants. Last summer, Wallace and a representative of the Sahalandy group traveled to New Mexico to sell their products at the Market. In three days, they sold more than 500 items for a total of more than $31,000 – the Sahalandy's most successful visit to the Market to date. With the help of several returned Peace Corps volunteers, including Mundy and Dan Branch of Stewartstown, Pa., they also developed new relationships that have resulted in additional business for the Madagascar women.
"Since the market in Santa Fe this year, I have been working with Sahalandy to improve their organizational management through elections and restructuring committees," Wallace said. "Sahalandy is also gaining its independence by learning computer and Internet skills, so they can receive orders and pictures via e-mail. The ultimate goal is to maintain Sahalandy's success abroad that started with Natalie [Mundy] and the Santa Fe International Folk Art Market."
Many of the group's members have become well-versed in financial planning and management throughout the development of their silk-weaving business and have taken on new roles in their community. When fellow community members are experiencing hardship or difficulties, they now look to women in the cooperative for advice.
"I really enjoyed watching the members of the group grow in confidence and realize their potential," said Mundy, who has been working with the women since she started her Peace Corps service in 2010.
Mundy recently returned to Madagascar to visit her host community and see the progress that has been made.
"I've seen a lot of drastic changes for Sahalandy compared to when I left in May of 2012," Mundy said. "The majority of the children are now in private school, and eight of them are on their way to studying in college this year."
Federation Sahalandy was the subject of a documentary filmed in 2012 titled The Silkies of Madagascar. The documentary was shown several times during the Santa Fe International Folk Art Market and can be viewed online here.
About Peace Corps/Madagascar: There are currently 133 volunteers in Madagascar working in the areas of education, agriculture and health. During their service in Madagascar, volunteers learn to speak Malagasy. More than 1,085 Peace Corps volunteers have served in Madagascar since the program was established in 1993.
About the Peace Corps: As the preeminent international service organization of the United States, the Peace Corps sends Americans abroad to tackle the most pressing needs of people around the world. Peace Corps volunteers work at the grassroots level with local governments, schools, communities, small businesses and entrepreneurs to develop sustainable solutions that address challenges in education, health, economic development, agriculture, environment and youth development. When they return home, volunteers bring their knowledge and experiences – and a global outlook – back to the United States that enriches the lives of those around them. President John F. Kennedy established the Peace Corps in 1961 to foster a better understanding among Americans and people of other countries. Since then, more than 215,000 Americans of all ages have served in 139 countries worldwide. Visit www.peacecorps.gov to learn more.
# # #
---