FOR IMMEDIATE RELEASE:
Friday, January 27, 2012
Peace Corps Volunteers Help Armenian Women Create Small Business; Sell Handmade Toys
Project generates income for dozens of local families
WASHINGTON, D.C., January 27, 2012 Peace Corps volunteers John Hart of Fayetteville, Ark., and Caroline Lucas of Cary, N.C., helped launch a women-owned small business in Armenia selling and producing handmade stuffed bears. Since the Berd Bear project started in March 2011, the women have sold 230 bears, and generated thousands of dollars.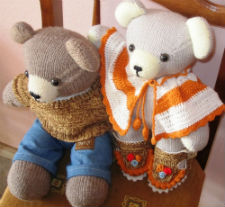 Soon after conceiving the idea, we began producing handcrafted Berd Bears non-stop, including personalized accessories and clothing, said Hart, a graduate of the University of Arkansas. This project has been so successful, and I directly attribute that success to the dedication of the women.
When Hart arrived in northeastern Armenia in 2010, he worked with his new community to identify income-generating projects for local women. Hart soon helped create the Berd Women\'s Resource Center Foundation (BWRCF) for women to knit stuffed bears and sell them regionally.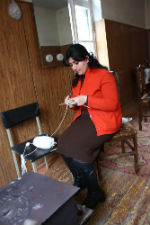 Each stuffed bear is handmade from start to finish by members of the group. The bears head, body, legs and arms are created using Armenian knitting techniques and assembled by a group of women who stuff and sew it together. Button eyes, a nose, and a mouth are then added, and the bear is dressed in either standard or traditional Armenian clothing. Male bears wear knitted sweaters and hand-sewn slacks, and females wear hand-sewn dresses. In total each Berd Bear requires about 18 hours of labor.
The women of Berd are incredibly talented and hardworking. They put a lot of pride into their craft, which is evident in each carefully and lovingly handmade bear, said Lucas, a graduate of Chapman University. As sales of the Berd Bear increase, more local Armenian women are able to work in full-time positions with the BWRCF.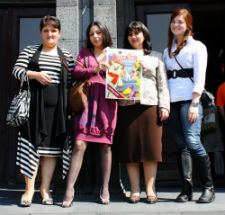 Additional income generated by sales of the Berd Bear is used to provide members of the foundation with training classes in basic computer skills, business development and other topics.
Aside from the financial benefits generated by bear sales, the women are also gaining business and leadership skills, continued Lucas. Now, these women can help support their families.
About Peace Corps/Armenia:
More than 780 Peace Corps volunteers have served in Armenia since the program was established in 1992. Currently, 98 volunteers serve in Armenia. Volunteers work in the areas of community and business development, and English education. Volunteers are trained and work in Armenian.
About the Peace Corps:
Since President John F. Kennedy established the Peace Corps by executive order on March 1, 1961, more than 200,000 Americans have served in 139 host countries. Today, 9,095 volunteers are working with local communities in 75 host countries. Peace Corps volunteers must be U.S. citizens and at least 18 years of age. Peace Corps service is a 27-month commitment and the agencys mission is to promote world peace and friendship and a better understanding between Americans and people of other countries. Visit www.peacecorps.gov for more information.
# # #
---