FOR IMMEDIATE RELEASE:
Monday, April 7, 2014
Peace Corps Volunteers Find Innovative Solutions to Global Health Challenges
WASHINGTON, D.C., April 7, 2014 – In honor of World Health Day, the Peace Corps celebrates the work of volunteers around the world to improve global health in collaboration with the countries and communities they serve.
Peace Corps volunteers work at the grassroots level with local governments, clinics and non-governmental organizations to expand health education and promote social and behavioral change in public health, hygiene, water sanitation, and HIV/AIDS. Health volunteers work in both formal and informal settings, targeting those most affected by specific health challenges.
World Health Day is celebrated annually on April 7 to commemorate the establishment of the World Health Organization in 1948 and bring worldwide attention to public health issues.
Below find an example from Nicaragua of how Peace Corps volunteers are using technology and innovation to improve health.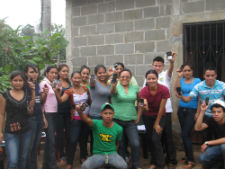 To empower Nicaraguans to lead healthier, safer lives, returned Peace Corps volunteer Lauren Spigel and current Peace Corps volunteer Nishant Kishore, together with fellow volunteers and community members, have created a text-message based health hotline called ChatSalud to anonymously share accurate health information and connect Nicaraguans to local health resources.
An unwillingness to talk openly about sexual and reproductive health in Nicaragua has led to a widespread lack of reliable information for young people and high rates of pregnancy, sexually transmitted diseases and HIV/AIDS. The topic is considered taboo, and as a result, about one in every four adolescent girls in Nicaragua will become pregnant before they turn 18, and only about 60 percent of the rural population engages in family planning.
"In the small community where I was living and working, youth often faced barriers when accessing sexual and reproductive health information," said Spigel, of Baltimore, Md. "In doing our work as Peace Corps volunteers, we found that people want information about sexual and reproductive health, but they want a way to get it anonymously."
Spigel and her colleagues found that while less than 10 percent of households in Nicaragua had access to the Internet, nearly 90 percent of the population had access to a cell phone. The volunteers' mobile solution is filling an important gap by making sexual and reproductive health information accessible in a reliable and confidential way that resonates with Nicaraguan youth.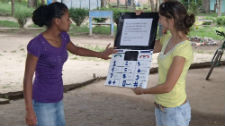 The free text hotline will be the first of its kind in the country and will work to break down the stigma associated with talking about sexual and reproductive health in Nicaraguan culture. The ChatSalud team has brought together significant resources and local organizations, including the Nicaraguan government, to get the program off the ground. With the help of local telecommunications companies, the text message service will be completely free for users.
"ChatSalud is showing that Peace Corps volunteers can mobilize coordinated efforts between partners at the grassroots and national levels," Spigel said.
Youth from the program's pilot community in rural Northern Nicaragua are already proving the impact of the project, and in the months ahead, ChatSalud hopes to expand across the country.
"Really, this is what the modern Peace Corps is all about," Spigel said. "With ChatSalud, we identified a problem at the grassroots level and had the flexibility, perseverance and technological know-how to innovate a solution."
About Peace Corps/Nicaragua: There are currently 172 volunteers in Nicaragua working in the areas of community economic development, environment, health and education. During their service in Nicaragua, volunteers learn to speak the local language of Spanish. More than 2,295 Peace Corps volunteers have served in Nicaragua since the program was established in 1968.
About the Peace Corps: As the preeminent international service organization of the United States, the Peace Corps sends Americans abroad to tackle the most pressing needs of people around the world. Peace Corps volunteers work at the grassroots level with local governments, schools, communities, small businesses and entrepreneurs to develop sustainable solutions that address challenges in education, health, economic development, agriculture, environment and youth development. When they return home, volunteers bring their knowledge and experiences – and a global outlook – back to the United States that enriches the lives of those around them. President John F. Kennedy established the Peace Corps in 1961 to foster a better understanding among Americans and people of other countries. Since then, more than 215,000 Americans of all ages have served in 139 countries worldwide. Visit www.peacecorps.gov to learn more.
# # #
---