FOR IMMEDIATE RELEASE:
Wednesday, October 24, 2012
Peace Corps Volunteers Facilitate Sanitation Workshop in Swaziland
WASHINGTON, D.C., October 24, 2012 - Peace Corps volunteers Addy and Ryan Hall of Troy, Penn., have collaborated with fellow Peace Corps/Swaziland volunteers and local Swazi organizations to spearhead a week-long sanitation workshop in a refugee camp with more than 300 residents. In addition to cleaning up garbage, the workshop included information sessions on hygiene, recycling and preventable diseases.
While driving through the camp earlier this year, the Halls discovered a huge problem with disposable waste.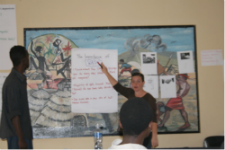 "The trash in the refugee camp was beyond a cosmetic problem," said Addy, who has been living and working in Swaziland with her husband since June 2011. "The sanitation and cleanliness of the camp posed a serious health concern to its 300 residents who share a common trash pit, toilets and showers."
When the camp administration suggested conducting a sanitation workshop, the Halls recruited 30 community volunteers from their region and 30 English-speaking residents from the camp to assist with the project.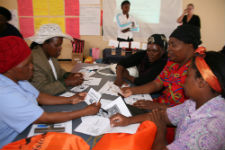 "We wanted the locals to work with the refugees in order to foster a greater sense of community," continued Addy, a graduate of the University of Washington.
Throughout the week, camp residents participated in discussions about sanitation. In addition, they learned new ways to recycle trash and how to generate income through recycling-related projects. The residents and volunteers collected more than 100 bags of trash, built a fenced-in trash pit and developed a new plumbing system for the camp. The final day of the workshop was spent cleaning up the road that stretches from the camp to the local market.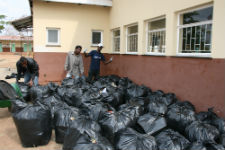 "The workshop had a great turnout, and we were able to create a cleaning committee to ensure that the camp stays clean for generations to come," said Addy.
About Peace Corps/Swaziland: More than 1,480 Peace Corps volunteers have served in Swaziland since the program was established in 1968. Currently, 72 volunteers serve in Swaziland. Volunteers work in the areas of health and youth development. Volunteers are trained and work in the siSwati language.
About the Peace Corps: Since President John F. Kennedy established the Peace Corps by executive order on March 1, 1961, more than 210,000 Americans have served in 139 host countries. Today, 8,073 volunteers are working with local communities in 76 host countries in agriculture, community economic development, education, environment, health and youth in development. Peace Corps volunteers must be U.S. citizens and at least 18 years of age. Peace Corps service is a 27-month commitment and the agency's mission is to promote world peace and friendship and a better understanding between Americans and people of other countries. Visit www.peacecorps.gov for more information.
# # #
---