FOR IMMEDIATE RELEASE:
Friday, August 19, 2011
Peace Corps Volunteers Facilitate Camps for Youth with Disabilities
Volunteers in Armenia, Kazakhstan Encourage Social Interaction and Leadership Skills
WASHINGTON, D.C., Aug. 19, 2011 Peace Corps volunteers in Armenia and Kazakhstan facilitated camps in July and August for more than 70 children and young adults with disabilities. During the summer months, Peace Corps volunteers worldwide regularly lead summer camp programs to help youth develop leadership skills and learn about healthy lifestyles.
Armenia:
Peace Corps volunteer Christopher Sherwood of Indianapolis, Ind., facilitated a two-week camp in July and August for 30 children with disabilities. The children participated in group exercise, swimming, dancing, art projects and intellectual games designed to teach life skills. Sherwood has been working since May 2010 with more than 100 local children in a community rehabilitation clinic.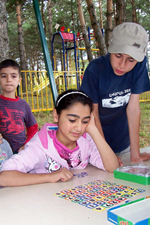 The camp was the most amazing experience so far in my Peace Corps experience. To watch children include each other without regards to the others disability was incredible, said Sherwood, a graduate of Marshall University. The camp was for children with many types of disabilities.
Kazakhstan:
Peace Corps volunteers Shannon Huett of Poplar Bluff, Mo., Christopher Thomas of Des Moines, Iowa, and Susan Sumner and Paul Reinhart of Mountain View, Calif., facilitated a four-day camp from July 18 to July 21, 2011 with 37 students aged five to 25. The camp focused on educational lessons around volcanoes, dinosaurs, endangered species and environmental protection. The students also conducted a trash clean up in a local recreation area, planted trees and participated in hikes. Additionally, the students completed a
World Map Project
, a Peace Corps project that brings communities together to paint world maps in public spaces.
Our community service activity of picking up trash in a popular area surprised so many local people, said Peace Corps volunteer Huett, a Drury University graduate. The children said that this was their favorite part of the camp because they felt so useful.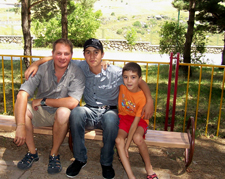 During the summer months, Peace Corps volunteers also lead
Camp GLOW
(Girls Leading Our World) programs to promote gender equality, empower young women and create a supportive environment for learning, cultural exchange, creativity and leadership development. GLOW camps range from day-long sessions to week-long overnight programs.
Today, five percent of Peace Corps volunteers worldwide work in the youth development sector. Peace Corps youth and community development volunteers work with communities to form youth groups, clubs and sports teams. Volunteers also develop extracurricular activities that help local youth build confidence, and develop decision-making, communication, and leadership skills that promote positive relationships.
About Peace Corps/Armenia:
More than 730 Peace Corps volunteers have served in Armenia since the program was established in 1992. Currently, 96 volunteers serve in Armenia.
About Peace Corps/Kazakhstan:
More than 1,100 Peace Corps volunteers have served in Kazakhstan since the program was established in 1993. Currently, 167 volunteers serve in Kazakhstan. Volunteers are trained and work in Kazakh and Russian.
About the Peace Corps:
President John F. Kennedy established the Peace Corps on March 1, 1961, by executive order. Throughout 2011, Peace Corps is commemorating 50 years of promoting peace and friendship around the world. Historically, more than 200,000 Americans have served with the Peace Corps to promote a better understanding between Americans and the people of 139 host countries. Today, 8,655 volunteers are working with local communities in 76 host countries. Peace Corps volunteers must be U.S. citizens and at least 18 years of age. Peace Corps service is a 27-month commitment. Visit www.peacecorps.gov for more information.
# # #
---